1 April, 2010- Bedding is one thing that is required by everyone at their homes. Now, whether you use different bedding styles to update your home decor or not, depends on you. Right selection of bedding sets is one of the most easiest ways to bring desired mood and aesthetics to a room's decor. For example, if you are very close to nature, buy bedding sets that take inspiration from nature like some thing having floral bedding patterns on them or animal style bedding. Get some more accessories related to nature like a vase with fresh flowers or some interior plants in a pot and decorate your room to give it a natural look. What's interesting is that, you can have many bedding sets with different styles and patterns and keep on changing your decor style frequently. This will always lend a fresh look to your home decor and you will never feel bored with your whole daily surroundings. For inspiration, check out the following very popular bedding styles world over.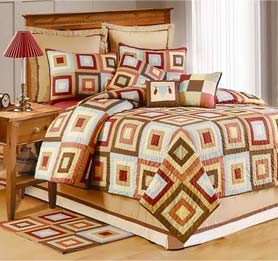 Southwestern Bedding
Southwestern bedding is liked for its rich colors, rustic and stylish flair that it gives to your bedroom decor. So now, if you miss living in Arizona or New Mexico, bring some Southwestern bedding sets and enjoy the grand bedroom decor!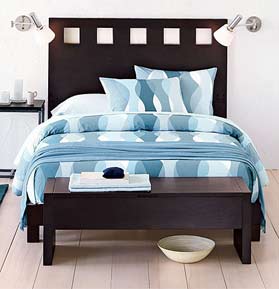 Contemporary Bedding
If you want a bedding that gives a clean, uncluttered look to your bedroom decor than go for a contemporary bedding style. There are many modern bedding sets that have clear and uncomplicated straight lines or geometric figures that reflects your personal space and gives you a crisp, clean and organized bedroom decor.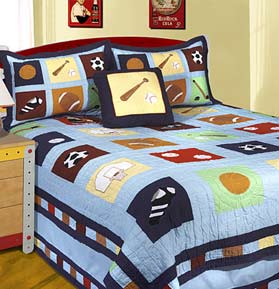 Sports Bedding
You are in a dilemma as to what bedding style to get for your little boy. This one is for your help if your kid is a sports freak. Get some sports bedding sets- brightly colored with sports balls, sneakers, helmets, varsity letters and all other bedding patterns like that. It will be a perfect choice for your ever active child's bedroom decor.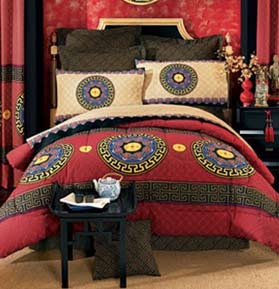 Asian Bedding
Asian decor, particularly oriental home decor style is a craze in many western countries too. If you want to bring in the energetic feel to your bedroom decor, get an Asian bedding set in bright reds and blacks- the essential colors of oriental decor style. Asian bedding style with Chinese dragon or a zen garden or some other bedding patterns with symbols for good fortune in brocades and silks will fill your bedroom with positive energy.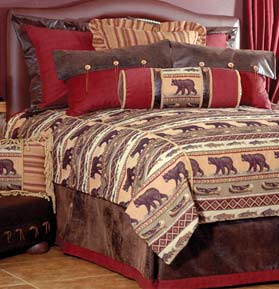 Rustic Bedding
Rustic bedding patterns are for bringing in the wild nature's beauty right in your bedroom decor. Beautiful designs, colors and motifs bring nature into your home simply with the rustic bedding style. What more, many rustic bedding sets come with matching curtains, drapes and valances for granting a rustic style to whole of your bedroom decor.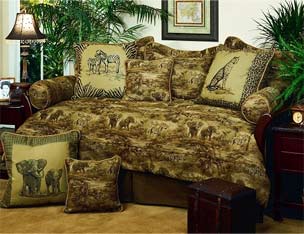 African Bedding- Day Bed
And this one is also for your love for wilderness! Bring home the wild beauty of Africa through African bedding sets like this one that adorns a day bed. Safari scenes with lions, zebras, and cheetahs running free brings life to your bedroom decor through African bedding styles.
And if anyway, you want to go with the trends, have a look at the bedding styles and patterns that will be popular in 2010. View the photo gallery-
Home Bedding Trends in 2010