Production Centers Spinning was till very recently a household job. Mahatma Gandhi introduced it as a way to resist the foreign rule in India. Spindle and the spinning wheel or takli and charkha as they are called in India were a symbol of self-sustenance. Handloom furnishings have always remained an in thing in the home furnishings industry.
Though with the introduction of manmade fiber which is more durable and affordable a part of market has gone to them yet the natural fabrics spin an aura of their own. Manufacturers have accepted both manmade and natural fabrics in their product lines. They are weaving magic with these. Thus the major production centers have not changed.
Cotton Textile Production Centers
The major textile production centers are Maharashtra, Gujarat, West Bengal, Tamil Nadu and Uttar Pradesh. They include big textile mills, handloom sector and powerloom sector.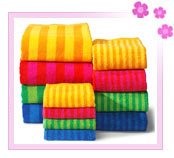 Maharashtra leads the production of cotton textiles. Major centers are Mumbai, Solapur, Nagpur, Pune and Amarawati. Gujarat follows Maharashtra with major centers being Ahmedabad, surat, Bharuch and Bhavnagar.
In the eastern state of West Bengal Kolkata, Howrah, Serampur and Murshidabad are the chief cotton textile centers. Coimbatore, Chennai, Madurai and Salem are the main sources in Tamil Nadu. Uttar Pradesh is also an important producer of cotton textiles major centers being Kanpur, Modinagar, Varanasi and Hathras. Panipat in Haryana is one of the major handloom furnishings production centers.
Jute Textile Production Centers
The jute industry is exclusively of West Bengal and Orissa. Most of the regions near Hoogly River are suitable for jute production and thus jute textile. The first modern jute mill was established in Kolkata in 1859. In 1947 most of the jute growing areas went to Bangladesh. Jute industry was re established in West Bengal and introduced in Bihar, Orissa and Assam.
Silk Textile Production Centers
Indian Silk is known for its exquisiteness world over and has a long history of silk exports. The silk was mainly produced by the handloom sector. Only in the late 20th century the modern silk fabric manufacturing techniques developed. Even today the finer or the special textured fabrics are done on the handlooms.
Karnataka is the major producer of the silk textile accounting for almost 60% of the total silk produced in India. Andhra Pradesh follows. Other states are West Bengal, Tamil Nadu Jammu and Kashmir and Uttar Pradesh. Bangalore, Mysore, Kolar and Belgaum, Dharamavaram, Warangal, Murshidabad, Vishnupur, Kanjivaram, Srinagar, Mirzapur, Varanasi and Bhagalpur are the major silk producing centers
Woolen Textile Production Centers
Woolen knotted carpets of Kashmir and Namdas of Rajasthan are world famous. Though the first woolen textile mill was established in 1876 in Kanpur, Uttar Pradesh but was not very successful. India Has a rather short winter that too mostly in the Northern parts. The woolen textile Industry is thus located in Punjab, Haryana, Himachal Pradesh, Jammu and Kashmir and Rajasthan.
Carpet Production Centers
Indian Carpets are considered to be the most exquisite ones. Produces in different states, each is different from the other and each has a different story to tell.
The major carpet manufacturing states are Uttar Pradesh, Jammu & Kashmir and Rajasthan Madhya Pradesh and Punjab major centers being Bhadoi, Agra, Srinagar, Baramulla, Jaipur, Bikaner and Gwaliar.