By: Rk Oberoi
08 October 2010- Textile furnishings is the chief component of interior decoration of your home that is also called soft furnishings or home furnishings. Interior decoration with textile furnishings is all about textile, fabrics, color etc. To furnish a home, every type of fabric can be used that is available in vast range of colors, designs, patterns & style. You think of anything you will find it on fabric. In so much variety you really need to scratch your brain cells & work creatively.
To work on the textile part for home decoration, you must first of all decide the color & fabric that you need for different rooms. Think what you like & dislike in terms of color & style. Say your liking can be towards bright color or you can have taste towards all natural & earthy colors. Also involve your family in this. Take suggestions from kids to decorate their room.
You can start with one room, finish it and then pick the next one. In this way your work will be more organized and will give the desired results of interior decoration. Like, if you are thinking to furnish your bedroom then you can consider textile furnishings as floor throws, bed sheets, pillows, bed spreads, carpets, curtains for windows, bed comforters, mattress covers etc. You will find every color of rainbow here. Even the price vary a lot with brands and styles.
Now each room has its specific requirements. So check out for options of
textile furnishings.
Also along with the color & fabric, check for the style you wanna go for. It can vary from traditional, casual to modern. You will find numerous books, online websites that can make your journey even more smoother.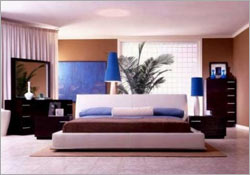 Decor Furnishing
What is required in textile furnishings
Textile furnishings for interior decoration is not only meant for ornamentation but also for strength & safety. So you should always check the fabric that you are going to use. Now the use of fabric is entirely your choice but make sure to use right kind at right place. For example
- Shower curtain fabric must resist water and should have anti mild property
- Curtains in any room must have anti fade tendency
- Bedding fabric must be soft, comfortable, wrinkle free, pest resistant
- Fabric that you are going to use in kitchen must be flame resistant
- Bath mats, carpets or mat for any other purpose and floor item should be anti slippery
So basically it is the purpose and place where you are going to use the fabric will decide its quality. To buy any textile or home furnishing fabric for home decor better to check for which room and purpose you are going to use it. This will help you in finding the most suitable fabric for home decor.

Achieve Style by Using Textile Furnishings For Interior Home Decoration
You can use different combinations and fabrics to create a style for your home decoration. If you have elegant furniture and marvelous flooring then you must need a home furnishings that match the entire decor.

- For curtain you can use satin if you like free flows. You can also use corduroy if your taste is more towards thick fabric. Corduroy fabric comes in various damask styles that look wonderful. In market you will also find organza curtain that can be used with thick fabric or you can go for the ready made cotton curtains to change the whole look.
- You can use natural bed sheets and bedspreads and on that use varied colored pillows and comforters. In this way you can change the entire look of your bedroom
- For drawing & dining room furnishings you can use table mats, table runners, dining cushion covers that are in harmony.
- Carpets are the great way to enhance the look of any room where they are used. Small rugs can be placed near to bed, and a full carpet in the living or drawing room.
- Bathroom is place where you can also experiment with the textile furnishings. Use colorful shower curtains, matching bath rugs, bath mats & hand towels. You can really give it a personal touch and make bathroom a personal retreat.
In this way you can make use of all the available textile furnishings for your interior decoration. If required you can also take the assistance of interior designer.
About the Author
R Oberoi is associated with Textile Furnishings and suggests www.textilefurnishings.com for further reading & information. It is an online B2B marketplace for global buyers, sellers, manufacturers, suppliers & consumers of international home furnishings market.
(ArticlesBase SC #1241082)
- Use Textile Furnishings for Interior Decoration