Shopping for shower curtain and confused on what to buy. If yes then don't get disappointed. Here you can read the complete shower curtain buying guide that will help you in finding the perfect shower curtain for your bathroom. You will find very informative shower curtain buying tips, which will also include shower curtain liners, rings and shower curtain rods. So unstrain yourself and get ready to grab the handy information.
Shower Curtain Material
Shower curtain comes in wide array of material. This include
fabric
, vinyl, plastic, silk and linen. Now what material to choose will definitely depends upon the purpose of using a shower curtain. For example to stop out flow of water vinyl shower curtain is used as this material is very heavy. But on the other hand vinyl curtains are difficult to wash. Silk and linen shower curtains are mostly used in formal bathrooms such as guest bathroom and master bathroom. Whereas shower curtain made up of fiber is light and easy to wash and can be used in kids' bathroom. Along with this you will also find non vinyl shower curtain that are manufactured from cotton and non hazardous.
Shower Curtain Stitching and Grommets
Any shower curtain that you are going to buy must be tested on grommets and stitching. Grommets are the plastic or metal rings that are used to strengthen the holes in
shower curtains
and must be there is every shower curtain irrespective of material used. Grommets also protects the shower curtain from ripping off. So in a way wholeness and fixedness is given to the shower curtain by grommet. Shower curtain stitching is usually the double stitching. Double stitching will not allow the frazzling of the curtain from its edges.
Shower Curtain Liners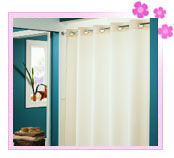 The purpose of shower curtain liner is to protect the curtain from water thus keeps the shower curtain dry. Many Liners come with magnetic bottom that help in keeping the liner in place while bathing. This is a very useful feature. Along with this also check if the liner has rust proof grommet of not. Buy the one having these. The vinyl liners although available in abundance but are not environmentally friendly. Instead of this you can go for the PVE and polypropylene liners, which are safer than PVC Vinyl shower curtain liners. Apart from this fabric liners are also a good option. The advantage of fabric liner among other is that it is easy to wash and maintain.
Shower Curtain Rods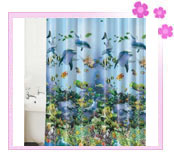 Shower curtain rods are available in plastic and metal. While purchasing a metal curtain rod make sure that it either has pure chrome or double-chrome coating. This gives life to the rod and stop the peeling of shower curtain rod. Check for the toughness of the rod if you are going to buy a plastic shower curtain rod.
Along with this you will also find great diversity in the styles of rod. The most common ones are:
Curved shower curtain rods
Straight or bar rods
L shaped shower curtain rods
Neo angle shower curtain rods
D style shower curtain rods
Trak shower curtain rods
Straight shower curtain rod is the most common where as curved rod presents the luxury and style. These days the rods are adjustable so do not take tension of the measurement much while purchasing the adjustable shower curtain rod.
Shower Curtain Rings and Hooks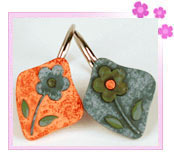 Once you have decided on the perfect shower curtain then give time for buying the shower curtain rings that will definitely accessorized your bathroom further. With this shower curtain is hanged on the rod. While buying the rings consider the material and color of the shower curtain, curtain rod and liner that you have already purchased. You can select the ring color that matches your curtain or you can go for the contrasting color. This basically depends upon your liking.
Shower curtain rings are available in metal and plastic form. So if you are buying a metal rod then go for the metal rings and for the plastic rod buy plastic rings. Solid steel rings are better than nickel-plated and these have anti-rust qualities. Also the metal rings come with rollers for easy and comfortable sliding of the shower curtain over the rod.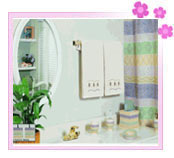 You can also buy shower curtain hooks instead of rings. You will find hooks made up on metal, plastic, glass, copper and even brass. Also the hooks are designed differently. Like for kids bathroom you can find a curtain hook having the character of Nemo, Mini Mouse et at. Multi-colored shower curtain hooks are also very popular.
Also while buying shower curtain make sure of size. For this measure your bathtub or bathroom shower stall. Therefore buying a perfect shower curtain and its associates will definitely going to assist you in achieving a faultless
bathroom furnishings
.