There are many distinct styles and techniques for counted thread work and embroidery. Most are centuries old, and have been in and out of fashion more than once. Embroidery is a long and absorbing process from start to completion and each of the gorgeous designs are exquisitely crafted using a range of different techniques and materials. The inspiration for embroidery comes from many sources including religious imagery, architecture, nature and poetry.
Technique
Embroidery, aptly described as painting by needle, is an expression of aesthetics, rendered with patient labour. It introduces grace and elegance even into articles of every day use. Designs in embroidery are formed on the basis of the texture and design of the fabric and the stitch. The dot and the alternate dot, the circle, the square, the triangle and various permutations and combinations of these go to make up the designs. Religious motifs such as gopurams, the tulsi plant, the temple doorway, etc. are all equally popular.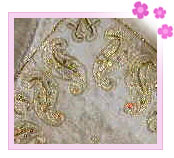 Medium
Numerous medium are utilized for embroidery such as on leather, velvet, net, cotton, hessian and silk, and now even raffia and screwpine articles are embroidered. The idea of enriching fabrics with the use of precious stones and metals is well known. Beads and mica have also been used to embellish embroidered fabrics. Apart from traditional embroidery materials such as wool, cotton, silk, beads and gold or silver threads, the artist has used such exotic materials as beetles' wings and various seeds to add richness.
Type Of Embroidery
Kashmiri work:
Kashmiri work has a rich colour spectrum and exquisite workmanship, with beautifully composed designs depicting common local symbols like the chinar leaf, the grape, the cherry, plum, apple blossom, lily, the saffron flower and various birds of the region.
Phulkari:
'Phulkari' (flowered work) is the Punjab-Haryana speciality, traditionally worked on coarse cotton in orange, red or blue, using flossed silk.
Kasuti:
Kasuti makes use of the back stitch, the running stitch, the cross stitch and the zig-zag running stitch to sketch mainly religious themes, usually using red, purple, green and orange, preferably in brighter shades on dark hand-woven cloth.
Chikan:
The famous Chikan work is done with cotton on a fine white muslin base. Using a variety of stitches minutely worked, together with knotted stitches which result in designs with raised surfaces, one speciality of Chikan is the creation of a 'jali' or the net effect.
Kantha :
'Kantha' embroidery makes imaginative use of waste rags, which are sewn on a base with simple running stitches to form motifs. Old Kantha pieces, in which women recorded scenes from their daily lives, are highly valued for their fine craftsmanship.