Woven dipicts the art of forming a fabric by interlacing at right angles two or more sets of yarn or other material. It is one of the most ancient fundamental arts, the 18th-century weaving and spinning inventions marked the transition from the old era of domestic craftsmanship to the tremendous, organized industry of today. Some of the finest silks, velvets, table linens, and carpets are still woven on handlooms.
Classification
Woven fabrics are classified as to weave or structure according to the manner in which warp and weft cross each other. The three fundamental weaves, of which others are variations, are the plain, twill and satin.
Plain Weave:
In plain weave, also known as calico, tabby, taffeta, or homespun weaves, the weft passes over alternate warp threads, requiring two harnesses only. The relatively simple construction suits it to cheap fabrics, heavy yarns, and printed designs.
Twill Weave:
The second primary weave, twill, shows a diagonal design made by causing weft threads to interlace two to four warp threads, moving a step to right or left on each pick and capable of variations, such as herringbone and corkscrew designs. Noted for their firm, close weave, twill fabrics include gabardine, serge, drill, and denim.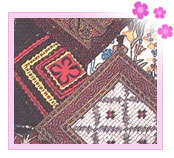 Satin Weave:
Satin weave has floating or overshot warp threads on the surface which reflect light, giving a characteristic luster. When the uncrossed threads are in the weft, the weave is called sateen.
Types Of Woven Fabrics
Pile fabrics have an additional set of yarns drawn over wires to form loops, and may be cut or uncut. Warp-pile fabrics include terry and plush; weft-pile, velveteen and corduroy. Velvet is commonly woven as a double cloth. In swivel weaving, extra shuttles with a circular motion insert filling yarns to form simple decorations, such as the dots on swiss muslin. The Jacquard loom attachment permits machine weaving of the most complicated designs.