By: Rk Oberoi
29 October 2010-
Kitchen aprons or any other apron has the basic function of protecting your garments from the messy and cluttery work. Moreover housewives these days are no longer interested in dull and boring kitchen.They look for style in everything they do and cook and kitchen aprons are no longer alien to this. Wearing the trendy and stylish apron may not help you to cook the delicious food but will surely add to your style and presentation of the kitchen. Market these days is full of all types of designer kitchen apron for you and your kids that have numerous styles and designs along with color, patterns, fabric, embroidery, pockets et al. You really need to identify the apron designs and styles before buying these so that your purpose of using these is fulfilled completely.

Here is an informative guide that will briefly describe the kitchen apron designs and styles. So check this out before buying.

Apron Styles
With the use and purpose, the style of the apron tend to vary a lot. More over the apron manufacturers are sensing the pulse and making beautiful kitchen aprons that can be long, short, sassy or in any other style. In the kitchen generally bib or waist apron is used. Although there are many kitchen apron styles but the most common kitchen apron styles are the following
» Waist Apron
» Bib Apron
» Cobbler Apron
» Pinafore Apron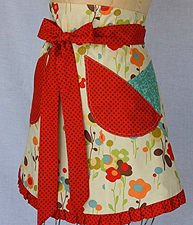 The Apron Lady Designs
Waist apron are just like the skirts that are tied at the waist. The waist kitchen aprons are mostly used at home or by the chefs at hotels. Waist aprons apart from the kitchen are also used by the workers working in the mills and workers working in the stone industry etc. There also come the lead waist aprons that are wore by the workers whose work is associated with the X-ray.
Bib aprons are mostly used as kitchen apron and one of the most common kitchen apron styles whether at home or at hotel or restaurant. Unlike waist apron bib aprons has the bib and a length up to knee. It can be shorter than that also but it will definitely have a bib. Bib kitchen aprons have the strap for the shoulder and strings at the waist level to tie. These mostly cover the front of your clothes. Bib aprons are the most widely used form of kitchen aprons so bought by many home cooks.
If you need protection from the back as well then buy the cobbler apron that will cover you from the back as well as front. Cobbler apron are stitched from both the sides and thus without strings. This is considered as the form of bob apron.
Many aprons styles earlier were more towards dress type rather than utility. Under this category comes the Pinafore that is worn by women because of the frilly sleeves
Apron Designs and Fabrics
Aprons that is the item of kitchen furnishings has many apron designs and made from various fabrics. Fabric used also define the kitchen apron designs, which can be
» Denim Aprons
» Canvas Aprons
» Cotton Aprons
» Polyester Aprons
» Tuxedo Aprons
» Smock Aprons
Cooking Aprons are the most popularly made from the cotton or polyester that are very easy to wash and maintain. Even denim and plastic aprons for the kitchen are also getting hot because of the hard and durable fabric. You will find apron designs in the form of smoke, tuxedo, prints, embroidery, number and placement of pockets.

Apron designs and kitchen apron styles are further modified by using patches, silk-screening, applique and embroidery. Retro and vintage aprons in the kitchen are again in that used to the part of the kitchen during 1970s and 80s.

You can also personalized your kitchen apron by having the image, name or other text you like the most. So apron designs and apron styles vary a lot and you can purchase the one you like the most and as per your table kitchen linen furnishing requirements.
Best Sites for Apron Designs & Styles
» The Apron Lady Designs
» Personalized Aprons
» Retro Apron & Kitchen Aprons