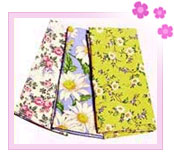 Apron is a garment, usually fastened in the back and worn over all or part of the front of the body to protect clothing. It possess multipurpose usage and is a must for a great cover-up. Taken rather as a shield for other garments, still apron is every bit as stylish as other designer dresses. Kitchen aprons have long been decorative as well as functional and like other fashions, both their styles and sources have evolved.
Aprons, for kitchen or garden, are available in a wide range of patterns and in many different styles. Aprons are used in a variety of profession, from chef, kitchen, restaurant, food service and waitress aprons to cobbler, casino, promotional, money and multi-purpose aprons. These aprons come with multiple pockets and printed designs. Aprons are made charming, whimsical, and practical with the help of applique work, beautiful prints and embroidery.
Fabrics
Quality fabric and durability are the main characteristics that buyers look for while purchasing a apron. Fabrics selected to create aprons must be stain resistant, wrinkle resistant and very durable. Apart from cotton, linen, aprons may also be made with denim.