Kitchen towels help create a joyful mood, special ambiance and comfort in the home and bring about a genuine aesthetic delight to the kitchen. Distinct for their multitude of colors, patterns and textures, kitchen towels are renowned for their spectacular durability and dirt rejection. These colorful towels are generally pre-washed, are lint free, highly absorbent and long lasting.
Kitchen towels can be used as dish towels, dusting rags or absorbent cloths. They're great for covering rising bread dough, drying pots and pans, shining glassware and flatware, dusting, and cleaning. Kitchen towels easily gets into tight spots, making it perfect for drying glassware and for drying dishes, glasses, pots and pans. Unique gifts for family and friends, kitchen towels can be embroider, appliqued, tie-dyed or printed with exotic patterns. A must in every kitchen, these towels can also be hand crocheted on the kitchen cabinet.
Fabrics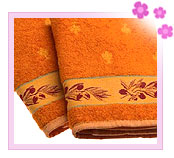 Cotton fabrics in solids, checks, dobby, jacquard designs are the most favored for crafting kitchen towels as this natural fiber is known for superior absorbency, durability, and beauty. Linen kitchen towels also retain their color and luster and are easy to machine-wash.