Design Ideas for Fabric Shower Curtains
September 22, 2010- Fabric shower curtains are popularly used in washrooms or bathrooms. These are most often plain fabrics with simple prints and designs. Though these bland shower curtains can be added with some decorative design elements to convert them into designer fabric shower curtains. Discussed here are few innovative ideas which can transform the simplest of fabric shower curtains into interesting and trendy designer shower curtains. Check them out:
Stuck in Crafts Button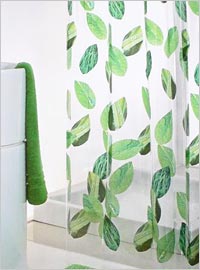 Buttons can be interestingly used for decorating a shower curtain. Get a plain monotoned fabric curtain and create design patterns onto it by stitching buttons of a contrasting color in various fun shapes like fish, flowers, butterflies etc. Now-a-days markets are flooded with innovative crafts buttons which can be put to use for decorating almost any thing. Just loop in few stitches with thread and you can splash your creativity various home textiles including
shower curtains
.
Paint Them up
Fabric paints are another option to decorate a simple shower curtain. Draw a design and fill it up with beautiful hues and shades to create a personalized shower curtain. You can also use stamps and stencils etc. for creating aesthetic graphical designs and lovely patterns. Highlighting these painted designs with sequins or beads enhances the beauty of such shower curtains all the more. Though, it is better to practice the paint strokes on a rough
cotton fabric
before starting it up on the shower curtain.
Stitch Witchery
Stitch witchery refers to the fusion of material to material, meaning, a plain fabric can be decorated with fabric bits and pieces arranged in a particular design pattern. A plain shower curtain too can be decorated with such technique. Just prepare a design and trace it onto the curtain. Then cut fabric pieces of the same shape and paste them on its place. Embroider the edges of the pasted fabric and you are ready with a luxury shower curtain.