Cotton is a cool, soft, comfortable and the principal home furnishing fiber of the world. Cotton fabrics, as they come from the loom in their rough, unfinished stages, are known as greige goods. Most undergo various finishing processes to meet specific end-use requirements. Some mills, in addition to spinning and weaving, also dye or print their fabrics and finish them. Finishing processes are numerous and complex, reflecting today's tremendous range and combination of colors, textures and special qualities.
Characteristics of Cotton Fabric
The cotton fiber is from the cotton plant's seed pod. The fiber is hollow in the center and under a microscope looks like a twisted ribbon. "absorbent" cotton will retain 24-27 times its own weight in water and is stronger when wet than dry. This fiber absorbs and releases perspiration quickly, thus allowing the fabric to "breathe". Cotton can stand high temperatures and takes dyes easily. Cotton can also be ironed at relatively high temperatures, stands up to abrasion and wears well.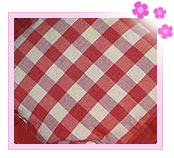 Cotton Fabrics and Weaves
Duck:
It is a heavy, durable tightly woven fabric. Heavy weight drill is used in awnings, tents, etc. Lighter duck is used in summer clothing
Flannel:
This cotton is plain or twill weave with a slight nap on one or both sides.
Oxford:
It is a fabric with a lustrous, soft finish. It is characterized with narrow stripes and can be woven in plain or basket weave. Also a term used for wool fabric that has black and white fibers.
Terry Cloth:
It is a looped pile fabric that is either woven or knitted. Very absorbent and used for towels, etc. French terry cloth is looped on one side and sheared pile on the other.