Polyester is a synthetic fiber, produced by the polymerization of the product formed when an alcohol and organic acid react. Strong, crisp, soft hand, polyester fabrics are resistant to stretching and shrinkage. These are quick to dry and are resilient, wrinkle resistant with excellent pleat retention. Polyester is also used in casement curtains, throw rugs, and as a cushioning or insulating material.
Characteristics of Polyester Fabric
The outstanding characteristic of polyester is its ability to resist wrinkling and to spring back into shape when creased. In addition, polyester has good dimensional stability, wash and dry easily and quickly, and has excellent wash-and-wear or minimum-care characteristics; one of their principal uses is in apparel fabrics of this kind.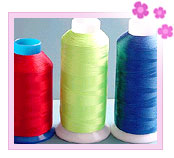 Because of its low absorbency, stain removal can be a problem. Polyester melts at medium to high temperatures. Blends of polyester give cotton a permanent press property and extend the wear of these blended garments.
Uses
Although many people dislike polyester, perhaps due to the double knit fad of the 1950, polyester remains a versatile and an important man-made fabric. Major end uses is essentially in every form of clothing and in making of curtains, draperies, floor coverings, fiber fill, upholstery and bedding.