July 12 2010- Kitchen chair pads make the sitting so comfortable that without kitchen chair pads you will feel the hardness of the seats. Most of the kitchen chair pads that you will find in the market will either wont match your interior decor or have old patterns that you do not like. So there is an option where you can make chair pads for kitchen on your own and get what you want in terms of color, design, shape, size, fabric and pattern.
Things Required
Fabric
Construction Paper
Measuring Tape
Scissor
Thread
Needle
Sewing Machine

How to Make Kitchen Chair Pads?
Cutting the Fabric for 4 Kitchen Chair Pads
Wash the fabric before cutting so that it does not shrink after sewing. Also before cutting and sewing iron it properly so that you have the exact size.
Place the fabric on the flat surface or table with right side together and inward.
Now measure your kitchen seat. You can use the construction paper for the proper shape. Draw the measurements on the construction paper and cut this with scissor.
Place this pattern on the fabric that you have placed on the flat surface and very neatly cut the fabric also. To make four kitchen chair pads you need 8 pieces of the fabric in the pattern of your seat.
You need 8 cushion ties that are 12 inches long and an inch wide. Cut the long stripes of fabric according to this.
Sewing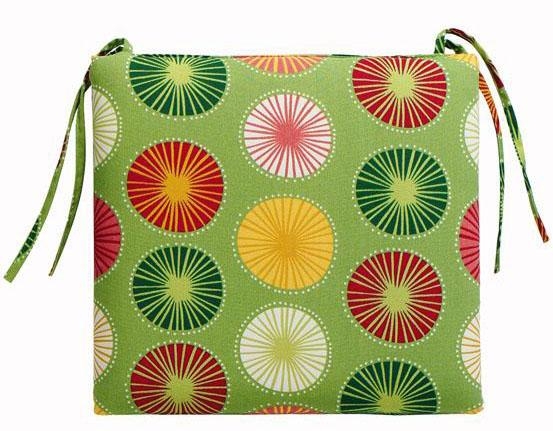 Sew the ties first. For this fold the fabric from both sides (length wise) till middle and keep one side over the other. Sew this to form a long strip. You can cut these as required and sew the open ends by folding the fabric.
To make the kitchen chair pads, take the two piece of fabric and place one above another. Keep the right side inwards. Now sew this from three side leaving the fourth side open. Also keep stitch on two parallel sides an inch open from the fourth side. Fold fabric from here outwards and make a seam. You can again make the seam on the two parallel sides. Now flip the fabric and bring the right sides out.
Take four ties and stitch two on each open side. Make sure that you stitch two exactly opposite to each other so that you can make the knot easily.