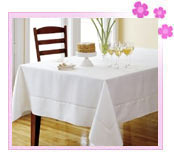 Chenille quilts
are liked by all but few has the interest to make it. If you want to make block chenille quilts then here is the simple step by step procedure on how to make block chenille quilts. Follow the instruction and get the quilt made by you.
First of all you must know what you are going to make so if you are a beginner and does not know much about sewing and all, it is better to select the quilt pattern before making chenille quilts. You can search internet for various chenille quilt patterns. Once you have selected that collect the things written below
Things Required
Sewing Machine
Sewing needles (Size 12)
Rotary cutter and ruler
Cutting mat
Chenille Fabric
Fabric for lining or backpack
Quilt batting (Filler)
Patterns for chenille quilt
Instructions on How to Make Chenille Quilt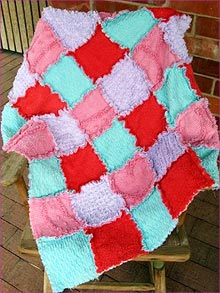 Chenille Quilt
Pre wash the chenille fabric for any shrinkage and dry it completely. Now iron the chenille fabric to make it wrinkle free.
First cut the pattern based on the design that you have selected for chenille quilt on paper and then cut the fabric accordingly. Remember to cut the block size an inch more than required as the extra will come in the seam.
Now place the paper blocks that you have cut on the fabric and cut the chenille fabric accordingly. Make the different blocks as per the requirement of design.
Sew the blocks together to make long strips. In each seam give at least ¼ inch seam allowance.
Now sew the strips to form the shape of the quilt.
Time to make three layers of chenille quilt. Place the lining or backpack fabric with wrong side down, above that the layer of filler or quilt batting, which is followed by the quilt pattern that you have made (with wrong side facing towards you).
Pin these with needle.
Sew all the four sides with sewing machine leaving about 2 foot opening.
Now flip the chenille quilt so that right sides are out and sew the opening very neatly. You can either do it with hand or machine.
Quilting of chenille quilts are done on the right side. You can use same color or different color thread for quilting. Make the patterns of flowers or just the straight lines.
Your chenille quilt is now ready to use or you can also give this as a present to your loved ones. Also if you have hands on embroidery then you can go with some simple stitches at the edges to make it embroidered quilt. You can also make the
quilt cover
in the same manner but do not put the filling inside and keep the lower and upper fabric separated from each other.