March 11, 2009- Pillow cover is the best, quickest and the cheapest way to decorate your home. You can place the it anywhere you like. Although you will get variety of pillow covers in market but making pillow cover at home is an experience in itself. Pillow cover is not at all difficult to make and sew. Learn here the step-by step guide on making
pillow cover
.
Things Required To Make Pillow Cover
Fabrics (one decorative fabric and one plain cotton fabric
Thread
Zipper or Buttons
Sewing Machine
Needles
Scissor
Measuring Tape
Fabric Marker
If you are not an expert in cutting and sewing then it is advisable to cut the sample on newspaper instead of direct working on fabric. Then you can place the fabric on that for cutting.
Step-by-Step Guide on How To Make Pillow Cover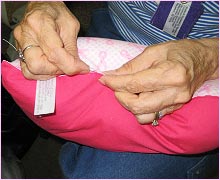 Make Pillow Cover
Every pillow cover has two sides on front and the other back. So you need two fabrics to cut and sew. Take the fabric or paper and draw the length and breadth of the cushion cover with marker and measuring tape.
Cut it along the straight lines with the scissor. Make sure to cut both the fabric. You can cut these together by placing one over the other or separately.

Pillow Cover

Now place the decorative fabric with wrong side down and above that the background fabric with wrong side up. Bother the fabrics will now have right sides facing inwards and wrong sides facing outwards.
You can pin before sewing these if you cannot make the straight seams or your fabrics are too slippery. Also if you need then make the straight line with marker leaving ¼ inch on all the four sides. This will be your seam line.
Sew the two fabrics together on the three sides.
For fourth side sew from the sides leaving about 4" un-sewn part in the center for zip or buttons. (take the measurement of zip and leave the gap according to that.
Flip the pillow cover to get the right sides out. Now your pillow cover has the three sides sewn completely and the fourth side half done.
Slightly fold the open fabrics inward one by one and make a seam. (do not attach the two together. Make the separate seams).
Attach the zipper on these two sides. If you do not want the zip then you can attach buttons also. But for this you will have to make the button holes on one of the side. Instead of these two you can also take the decorative strings of about 7-8" length and attach it on the both sides of fabrics and close it by making knot of two.