Whether you are throwing a big party at your home or just having an informal get together of few very special friends, you need a meal table in utmost style. Therefore for any such occasion you will have to think in advance so that your party is remembered for a long time not because of lovely food but also for the marvelous table setting with wonderful napkin ideas,
table cloth
, dinnerware & other table accessories.
Napkins are very small but yet have the magic of grabbing the attention. So keeping them nicely in various folds & styles is very important. You can also buy other accessories like napkin clips & rings to keep the fold intact. Also while selecting the napkins you will have to consider the color, theme & style of napkin you want for any occasion. In the market you will find napkins for every occasion like wedding, birthday party, baby shower, festival et al. So the choice is yours as party is yours.
Choice of Paper & Cloth
Depending upon your budget & occasion you can either go for the paper napkins or the cloth napkins. Like if your gathering is small then cloth napkins are the best otherwise the option of paper napkin is always open. Even paper napkin today are coming in wide range of quality, pattern & designs. You can buy superior quality for your party. On the other hand cloth napkins that are made from pure organic cotton, hemp or linen are eco friendly & good for environment. So you can also buy organic napkins.
Napkin Folding Ideas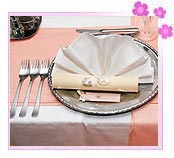 OBoth these types can be used for napkin ideas in terms of folds and setting. There are many types of napkin folding ideas that shift from simple to complicated. You can go for the following types of napkin folds to set your table:
» Scarf Napkin Fold
» Rolling Napkin Fold
» Knotted Napkin Fold
» Tailored Napkin Fold
» Wings Napkin Fold
» Tulip Napkin fold
» Three Point "Hat" Napkin Fold
» Cuffed Roll Napkin Fold
Scarf napkin fold is very easy is looks good. Place the napkin on a flat surface & hold it from the center. Then insert a ring. Under rolling napkin folding ideas just fold the napkin in quarters. Then from the one corner (diagonally) start rolling the napkin to make a roll till center do it from the opposite corner. Place the napkin ring. In knotted napkin fold, make place the one side of napkin on other to make a triangle then start rolling it from the bottom. Instead of ring make the knot of the roll. These are very easy napkin folding ideas that can be used.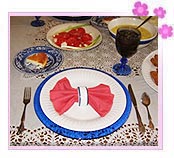 Selecting the Color of Your Napkins
Be sure to use the color of napkin that goes with your entire dining table decor. Avoid using too many colors. Like if you have a brightly colored cutlery or dinnerware then you can go for the simple looking napkins that are folded or placed neatly. Light colored table cloth have bright colored table runner /table-runners.html & same color of napkins will gel each other very well. So check everything before selecting the color.
Working on Theme as Napkin Idea for Table Setting
Any party either wedding, formal or informal looks more organized if done on some theme. If you are working on a one theme then you will purchase everything according to that otherwise everything will go topsy turvy. You can have Asian theme, holiday theme, Christmas theme, African theme, Western theme and many more.
Personalized Napkin Ideas for Wedding
Wedding is the occasion that needs your attention. You are trying to personalize everything here so that the fragrance of sweet memories always remain with you. You can use paper napkins and get your & your spouse's name printed on that. You can also get your picture printed on the napkin. Earlier it was very expensive but now it is quiet easy to get this done.
Napkin Placement
Napkin ideas for table setting require the correct placement of napkins on the table. Napkins are most commonly used on the plate, very decoratively folded. You can put forks on them. Napkins can also be placed on the left side of the plate or in the glass but again you can give pleats to the napkins so that they look elegant.
So from buying to placing & folding there are numerous things that you must consider for the napkins for a stylish table setting.