22nd Nov 2010- Interior decor of your bedroom can be made more elegant and sophisticated with stylish quilt covers. Beautiful designs, gorgeous patterns, attractive colors of quilt covers look simply amazing in your room. There are different fabrics used in the making of quilt covers like cotton, linen, silk, etc. The beauty of the complete bedding is enhanced by intricate and alluring designs of these covers. Duvet cover or quilt cover, also known as comforter cover is actually a cover that fits around a quilt or comforter and it protects a quilt from dust as it is not easy to clean quilts. The main reason for using a cover is to protect the quilt so that it lasts for a long time. The cover is slipped inside the duvet, much like a large pillowcase, and then it is closed at the end with Velcro, buttons, zip or ties. A quilt cover will protect your bedding from stains, general wear and tear, spills. And to bring a change to the look of your bedroom, it is better to buy a new quilt cover than it is to buy a new quilt.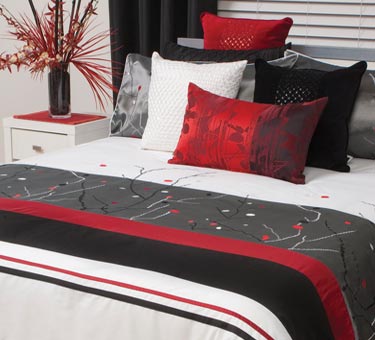 Styles of Quilt Covers
There is a wide range of traditional and contemporary quilt covers. There a few interior design concepts that you should take into consideration before buying your quilt cover. Firstly, the cover should be similar to the style of the bed and other bedroom furnishings. If your bedroom furnishings have a traditional look, go for a traditional floral, plaid quilt cover or solid duvet set. If you are more into ethnic Indian look, go for embroidered
quilt covers
. For contemporary look, abstract designs, stripes, are popular in qulit covers. You should see that the cover complement the style and colors of your bedroom's wall, floor covering, window dressing and other items in the room etc. In many cases you will find a wide assortment of window dressings and quilt fabrics of the same fabric, style and pattern so that there is a perfect coordination.
Do not compromise on the quality of the cover. Choose finest quality quilt covers. Always remember you are using the quilt cover to protect your quilt. This cover offer freshness to your bedroom. For a royal look, you can choose silk quilt covers. You can also use a combination of cotton and other fabrics for daily usage. You can use your creativity to make your own quilt cover. For an altogether different look, you can also use your old zari border sarees for making quilt covers. These special
duvet covers
create a bright and majestic look to the overall décor.
Comfort of Quilt Covers
When choosing any bedding item, comfort is the foremost criteria and this goes with quilt cover as well. Like style, fabric plays an important role in providing comfort and fabric preference varies from one individual to the next. We give below a description of the qualities of a few fabrics common to quilt covers.
Cotton Quilt Cover: Cotton is the most common fabric used as quilt cover. Cotton fiber is extremely versatile. Cotton can be woven into varied patterns and textures and takes on dyes easily. The fabric is very comfortable, soft and allows air to pass through. In other words, cotton quilt covers breathe better than other fabrics covers.
Cotton/Polyester Blends Cover: These have the combined properties of both cotton and polyester. While polyester is a synthetic fabric, resistant to wrinkles and durable, it is not as soft as cotton and does not breathe like cotton. So when a quilt cover is made of cotton/polyester blends, you get the comfort and softness of cotton and the durability of polyester.
Faux Suede Quilt Cover: Faux Suede is a 100% polyester fabric. It has the look and feel like real suede and has many advantages over real suede. It is easier to clean, less expensive, and there is a wide range of colors to choose from. Another advantage is that faux suede maintains its color better than real suede.
Silk Quilt Cover: This fabric gives a classy, royal look. It is delicate and luxurious and takes on dyes well. So you get a rich lustrous color range in silk quilt covers. The combination of elegant appearance and unmatched comfort makes silk a popular choice for luxury quilt covers.
Comparisons
No matter what color or design you may be looking for, if you are going for online purchase, never visit one site and make your purchase. Review few other sources as well. Read about customers feedback in different sites. Also read about the sellers in different comparison sites. Similarly, make comparisons in different furnishings shops to get the best cover at the best possible rate. This way you will get a number of options to make the right choice.