Diwali is an unquestionable symbol of festive season that is marked by shopping, crackles, sweets, exchange of gifts and rangoli. To fully imbibe the spirit of Diwali festival you must be an indispensable part of the activities that are associated with this festival of light. Gift exchange is one such facet that is done as a symbol of love and affection. Gift buying is not that easy as it seems as you really need to scratch your brain to do the shopping. Consider the likes, dislikes and age while selecting the Diwali presents. You must be familiar with wide array of Diwali gift ideas in order to purchase the perfect one.
Here we are presenting some of the unique gift ideas for Diwali that will help you in choosing the top-quality Diwali presents for your family, friends and loved ones.
Crystalware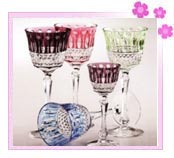 If your near and dear ones have liking towards crystal then nothing can be better then crystalware as a Diwali present. You can get the crystal bowl, crystal glasses, home decoration accessories made from crystal. Swarovski Crystal has range of crystalware from classic to very decorative. Designer vases, center tables, clock etc are their specialty along with other gifts for Diwali. RCR (Italy), Cevik (Italy), Ebano (Spain), La Annina and Florence are other crystal brand names. You can also buy vases from Toyo that have the cost from Rs 400 to Rs 2,500.
Diwali Pooja Gifts

Everyone does pooja on Diwali so anything related to this can be one of the unique gift ideas for Diwali. You can go for the Ganesha brass bells, framed ganesha, photo of Goddess Laxmi. You will find these even in silver and glass. Diwali pooja gifts also include Puja Thali that contains diyas, bells and finely decorated.
Jewelery

Thinking of Diwali gift ideas for your very close ones like wife, sister or mother. Go for the unique piece of jewelery. Jewelery is a nice present option and remembered through out life. You can buy pearl set, diamond earing, silver beaded jewelery, gold pendant or ear rings, bracelet. The choice entirely depends upon your pocket.
Dry Fruits and Sweets
Dry fruits and sweets are evergreen concept of Diwali gift ideas. You can never miss this for your friends. These days you will also find gift hampers in the market containing dry fruits, soft drinks, Diwali chocolates and biscuits. People these days love to receive gifts that have long shelf period, dry fruits, biscuits come in this category. Moreover dry fruits is the perfect gift to celebrate Diwali and the approaching winters when these are relished too much.
Cushion Cover Set

If your friend and family's taste is more towards home furnishings then buy the beaded and colorful
cushion covers
for them. The bright color will further increase the enthusiasm and can be a nice gift ideas for Diwali. You can also go for the Jaipuri cushion covers with embroidery and patchwork.
Bed Sheets and Other Home Furnishings
Bed Sheet is another item of
textile furnishings
that can be used as Diwali gift ideas. Along with this you can also buy carpet, rugs,
table cloth
,
table runners
etc and use these as Diwali presents. Generally close to Diwali you will find very bright colored bed sheets that have very eye catching prints. Even on some you will find beautiful mirror work to further enhance the spirit of Deepavali.
Light and Candles

Diwali is a festival of light so lights and candles can be one of the perfect Diwali gift ideas. Now a days along with simple candles you will find the decorative, scented candles and candles that float over water. Sunflower candles and diyas also come in this category of gifts. You can purchase these and use these as a Diwali gift. Along with this can go for the electric lights, lamps and chandeliers as Diwali present.
Decorative Window
A hand painted wooden window is the remarkable Diwali present. It can be fixed in a frame and can be placed as an item of decoration at home. Vibrant colors are used to make these painting and a very presentable Diwali gift for your near and dears.