Your the most special day is coming and you are almost done with every thing. But do you know that the selection of wedding chair covers can really help you in creating a fairytale and a romantic wedding. You cannot put any type of wedding chair covers for your wedding decoration. You need something different and special. So before ordering anything you must complete your homework of searching and finding what you need.
Which Color to Pick for Wedding Chair Cover?
First of all it is the color that you will have to choose. Pick the color you love. It can be golden, orange, pink, blue or any other possible color of the rainbow after all it is your day. Imagine is this color fits into your space and how it will will look. Like if you have selected too dark color for a small space then your area will look further small. So think of every possible angle.
Yellow or golden wedding chair cover will bring in the radiance, space, charm and openness.
Red wedding chair covers will no doubt look fantastic but these will bring extra energy to the space.
Green color wedding chair covers will create a calming atmosphere.
Pick brown and neutral combination if need calmness and royal atmosphere.
But the most mystical and romantic ambiance can be created by using the mauve or violet in combination with silver. You can create a dream wedding by using this color of wedding chairs. Give the chair cover a flare.
Styles of Wedding Chair Covers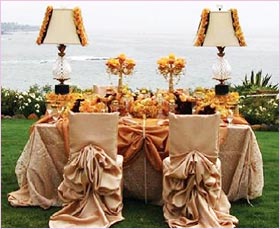 Embroidered and beaded chair covers when used for wedding decor really create an ambiance of luxury and romance.
You can also go for the ruffled chair caps that looks excellent and so rich.
Draped linen looks so fantastic that no one can steal the charm of this style. It has the natural flare and elegance.
Bow and sashes on the wedding chair cover is another style that you can go for.
Go for the delicate lace that are hard to escape.
Not even wedding but you can also get and use these styles for your dining chair covers or for a small party that you are throwing at your home.
How to Pick the Wedding Chair Rental Company?
For this you can pick the local rental company working in your area. You can go to the local party supply stores can check if they have the rental chair covers of your choice or not. Also check the party planning companies. These will give you professional advice and do the entire wedding decoration for you.
There are many places that you can look for the rental wedding chair covers.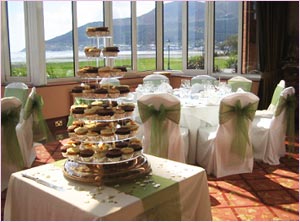 Wild Flower Linen
is one such place where you will get the style. They have the range of wedding chair covers, table linens, napkins and that too in utmost expressive style. You will say just wow after looking them.
Chair Covers 4U
is one such place that can take all your stress and keep you free to enjoy the wedding. You can get the rental wedding chair covers.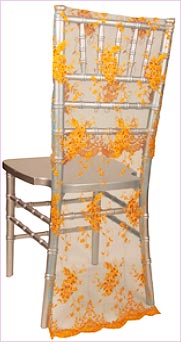 Then there are
eFavorMART.com
is another place to find every thing related to wedding decoration. Along with chair covers you can get the wedding favours, silk flowers, wedding accessories, balloons, wedding centerpieces and many more.
You can also check the
QualityChairCovers.com
for the custom designed wedding chair covers rentals. Your wedding reception, banquet and any other formal event will be markedly change with the right kind of chair cover. Although they are located in Orange County and San Francisco Bay Area but they give nationwide services.