Wrapping a soft bath towel after a relaxing bath can give you the feeling of fullness. So bath towels are not only the useful accessory in the bathroom but also the item that is used regularly. You can have bathroom go well without designer
shower curtain
, bath mats but you cannot think of having a bathroom without
bath towel
as it is more of a need than an important accessory.
Bath towels come in set having hand towels and face towels. Hand towel is the smallest and bath towel is the biggest of all. You can also buy bath towels without these two types of towels. If you have a big family then you can also go for the bath sheet instead of bath towels. Now what you need to consider while buying is given in this handy guide for buying bath towels. Read further to know more
Bath Towel Designs & Color
Consider the design of your bathroom and the entire
bathroom furnishing
so that you buy a bath towel that blends well with all these. Pick the bath towel color that coordinates with the
bath mats
,
hand towels
,
face towels
etc. You can get stripes, floral, plain bath towels in neutral to very bright color have machine-sewn embroidery.
If you are buying bath towels for your kids then better to buy the one having dark color but the elder members of the family can have light colored bath towels.
Although you can get cheap bath towels but they generally have low water absorbing tendency so wont solve the purpose. Moreover you have spend so much on your bathroom decor, choosing unmatched bath towel design & color will surely damage the entire look. So on this handy guide for buying bath towels we recommend to consider the color and design while purchasing bath towels, face towels and hand towels.
Bath Towel Fabric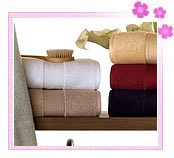 Most of the bath towels are made from
cotton
or cotton-polyester that have high water absorbing tendency. Although you will find bath towels in other synthetic
fabric
but it is always better to go for either 100% cotton or cotton-polyester blend. Bath towels made from Egyptian cotton and Brazilian Cotton are bit expensive. But there are other varieties of cotton available in the market that are not that expensive and will fit into your budget. The towel that feels soft to touch is always good and must be bought irrespective of the cotton variety. Do not buy very thin and scratchy towels as these are of low quality.
Also check the fabric for fibers. The good towel will have fibers on it just like a grass on ground. These fibers are shorn off instead of little loops.
How Many Bath Towels
Buy the bath towels according to your need and family members. Always keep one or two bath towels for guests. If you really have a big family consider purchasing bath sheets over bath towels.
Types of Bath Towels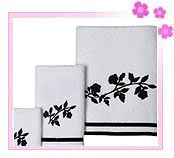 Pure Cotton Towels
Pure cotton towels are very soft and thick. These bath towels are made from Egyptian Cotton and other varieties of cotton. These are very durable and can be used daily. The pure cotton bath towels are not expensive but really high on quality.
Bamboo Towels
Bamboo yarn are used to make bamboo towels that have very silky touch. Bamboo towels are also organic as these are made from the chemical and fertilizer free bamboo. Most of the bamboo bath towels are made by mixing bamboo yarn with cotton.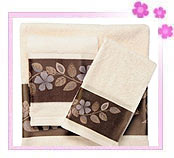 Organic Bath Towels
Organic bath towels are made from organic cotton, bamboo or hemp. No chemical or pesticides are used to grow these crops for making organic bath towels. These are good for environment and health.
Bath Towel Brands
Christy
JC Penny
FieldCrest Luxury
Room Essentials
Thomas O'Brien
Tiddliwinks