22 November, 2010- With the cold winters setting in, with Christmas approaching, it is time to start decking up and refurnishing your room with Christmas bedding to add a spark in your room. Go a step ahead in delighting yourself and others, keep up the Christmas spirits high and recharge your room with vibrant colors and fabrics. Christmas bedding collection, specially designed for the Christmas festival, can play a major role in changing the look of your room, enhancing the interior design to a great extent. You can easily incorporate the colors of Christmas in your room. Christmas
bedding
can bring a festive spirit to your home.
Why Christmas Bedding?
Its very common in festivals or holiday season to spruce up your home. During Christmas, it becomes all the more important as a few small details depicting Christmas like bright colors, trees, tinsel, bells, ribbons to name a few are enough to make the festive spirits high. Such festive decor when incorporated in bedding can make a complete difference to your otherwise pale room. Using Christmas bedding, whether in the form of
bed covers
,
bed spreads
,
bed sheets
or pillow cases, quilts , is a fun way to add a touch of festivity to your bedroom. Not necessarily you have to splash images of Santa Claus, snow, gifts and reindeer all over your bed. You can take a subtler approach to display your appreciation for the season. There are many creative options in Christmas bedding that are designed to satisfy all tastes, from bold bright designs to conservative ones, from modern to traditional ones.
Christmas Bedding for Kids and Adults
To make a choice for bedding, you have to consider the existing decor and what you want to convey. It is entirely up to you whether you go all the way or take a much more low-key approach to your bedding style. Luckily, there are many bedding varieties to choose, ranging from vibrant themed sets to light monochrome blankets and quilts. For
kids bedding
, go for cute, bright, printed bedspreads and warm, plush quilts with adorned with the season's artwork, like snowmen, snowflakes or animated characters etc. This will brighten up your child's room. Usually, the children's bedding products are sold in sets, so as to complete the look of the bed with a comforter, sheet and pillowcase.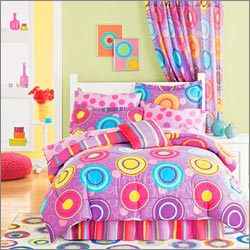 Christmas Bedding for Kids
Similarly for adults too, there are many options to choose. Christmas themed bedding for adults usually focus more on colors and fabrics. Not necessary you have all Christmas symbols, but a colorful bedding can celebrate the season just as well. Flowery prints, stripes and checks, elegant paisley prints, polka dots to name a few are the varied options to choose from. Just remember, use lots of bright colors, specially red and green colors. It is better to consider purchasing a complete set. And if you want an even subtler approach, consider accenting your bed with small decorative pillows or simply a decorative quilt or duvet cover.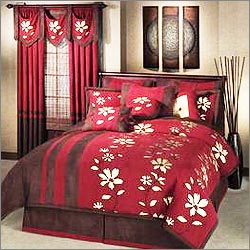 Christmas Bedding for Adults
Conclusion
The blend of bright vibrant Christmas colors in bedding creates amazing effects and entices the entire room. Christmas bedding designs decorate the bedroom with such amazing effect that it can change the look of the room instantly, giving an exciting and cheerful look.