Bed spread is a decorative cover for a bed and is similar to a large blanket, which is placed over the bed. Beautiful and functional bed spreads of all kinds can be fitted into a duvet cover that can accent anyone's decor. Unmistakable texture and sculptured look of bed spreads bring class and sophistication to the bedroom.
Colors, shapes, fabrics, and sizes play an important role while selecting the perfect bed spreads. Bed spreads can be custom made in different styles to fit different beds in the market, including fitted bed spreads, throw bed spreads, ruffle bed spreads etc. These are available in the series of dyed and printed fabrics; stitching and embroideries are added for further embellishments.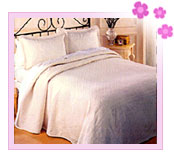 Fabrics
Cotton is generally the most desirable fabric for bed spreads as it has a hollow core so it "breathes," taking in moisture from the skin to keep one comfortable in warm or cool temperatures. Linen, woven from flax, are extremely durable. They are soft, strong and lustrous, and grows silkier with each washing. Silk spreads are also available. Soft, warm and very sensuous to touch, silk is both very expensive and quite delicate, requiring extra care in laundering. Satin sheets are generally made from acrylic or polyester, a man-made fiber.