Cotton bedspreads are made from cotton that is the most widely used fabric for making any kind of home furnishing.
Cotton
is also one of the oldest
fabrics
known to mankind. Cotton bed spreads form a great selection and most popular of all bedding.
Types of Cotton Used in Cotton Bedpreads
To make cotton bedspreads either 100% pure cotton is used or cotton is mixed with other synthetic material to make it. Glaze cotton is the synthetic fabric that contains cotton. You will also find the organic cotton bedspreads and Egyptian cotton bedspreads that are natural and eco-friendly. These are anti bacterial and hypoallergenic. This makes the organic cotton bedspreads safe for the skin as well as environment.
Organic cotton bedspreads are becoming hot selling thing as the concept of organic fabric and furnishing is in the air. People to protect themselves, their family and environment buy the eco-friendly products. Also people who are allergic to dust, mites, molds or mildew can buy the organic cotton bedspreads and defend themselves from allergic attacks.
Designs and Styles of Cotton Bedspreads
In this category of bedspreads you will get the find cotton bedspreads, woven, block printed cotton bedspreads, embroidered, organic, dyed and cotton satin or glaze cotton bedspreads. Huge variety, designs and patterns make it the most favorable choice of buyers and cotton bedspread manufacturers.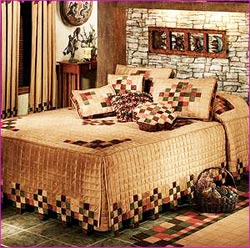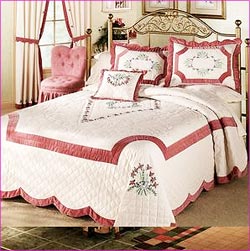 Check out more in
Styles of Cotton Bedspreads
Cotton Bedspreads: Selection Tips
Buy the cotton bedspreads that have more than 300 thread count. Thread count is responsible for the softness of the bedspreads and calculated as number of threads per square inch of the fabric. Cotton bedspreads are dyed in range of colors and these can also be embroidered, block printed, screen printed etc because cotton is such a fabric that can be subjected to wide range of techniques and colors.
Cotton Bedspreads India
Cotton bedspreads India are very popular. Panipat is the hub for the cotton bedspreads along with
bed sheets
, bed covers and other such home furnishing products. Moreover Indian bedspreads has unique prints and fast colors. You can also get hand woven cotton bedspreads along with machine made. In India cotton bedspreads with cut work, applique and mirror work are also available. Interior designers and decorators use the designer cotton bedspreads to enhance the appeal of bedroom decor.