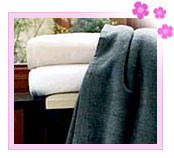 Blanket covers, traditionally called a night spread, are used to decorate the bed when the bedspread is removed. Blanket covers are a unique piece that provides great versatility when finishing a bed. These also provide the necessary protection to the blankets from dust and are designed to fall to the bottom of the mattress covering the blanket and bed sheets for a finished look.
Blanket covers are light in weight and can be finished with a touch of embroidery, lacing and trimmings. Blanket covers are thin and decorative, often with satin or lace trim. Cotton is the most popular material for sheets. Many prefer the feel of 100 percent cotton, though cotton/poly blends are popular because they're cheaper and more wrinkle-resistant. Blanket covers may also be made of a variety of other materials such as silk that is used to impart a rich look to the decor.
Blanket covers are used to provide protection to the blanket from soiling and wearing and a light-weight coverlet is used to decorate the bed. These are also utilized over a thermal weave blanket for added warmth during the winter months. Custom monogramming of blanket covers add a personal touch, that is becoming quite popular.