Even an idea of purchasing the Baby bedding is so exciting that you cannot explain this in words. Colorful baby bedding makes the nursery so colorful for the babies that they remain happy in their niche.
For baby bedding or
kids bedding
you will have to be very careful as
wrong buying can lead to SIDS i.e. Sudden Infant Death Syndrome.
So never buy anything loose for baby bedding. For safety buy firm mattress and there should not be any pillows, soft baby bedding, stuffed toys and quilts in the crib. The baby bedding should have the fitted sheet that is completely tucked in the crib for safety point of view.
Also check the crib from safety point of view. For this make sure to check the gap between stands as head of the baby can get entangled in that.
As far as baby bedding goes
go for the organic baby bedding.
This bedding is made from organic
cotton
, bamboo , linen and jute . Your baby will be completely safe in organic baby bedding. Even the modern baby bedding is mostly made from organic fabric.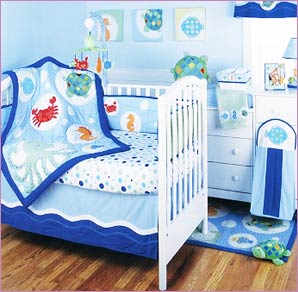 As India has the huge textile manufacturing and exporting market therefore baby bedding from India is also in demand. Get the baby bedding sets, products and accessories from India. You will get many designs and patterns. There are many baby bedding suppliers, exporters, importers and brands. You can check the following brands for baby bedding sets
Alyssa Preston
Baby Doll
Bedtime Originals
Beverly Hills Baby
California Kids
Carter's Bedding
Celebrations
CoCaLo Baby Bedding
CoCaLo Couture
CoCo & Company
Crown Craft
Disney Baby Bedding
Fireside Comforts
Jessica McClintock
JoJo Designs
KidsLine
Most of the baby bedding sets are made in prints. The print vary from alphabets, animal prints to cartoon characters. Also these are made in numerous colors. But anything that is too bright should not be bought. Buy pink color baby bedding for girls and blue one is for boys. You can also experiment with other colors like brown, bottle green, light yellow, gray et al.
Any baby bedding is incomplete without accessories like mobile, diaper stacker, bottle bag, chair. Buy only those baby bedding accessories that are enjoyed and safe for your baby.