Decorative pillows very quickly bring change in the room. You must have noticed that after entering a room, it is the pillow that grab your attention. Therefore you must consider all the elements to buy decorative pillows for living room or any other room.
Also if you want to decorate your room in an economical way then buying decorative pillows is the best option. You can get these in a wide price range. Silk, leather and embroidered pillows are expensive than cotton ones but still not out of budget. Not only this but also the range of color, fabric, design and pattern will suffice the magical effect. So to create the richness you do not have to spend extra bucks.
Among so much of variety it is sometimes confusing to buy the right decorative pillows as you will find many kinds of bedding decorative pillows, throw decorative pillows, large, small, round, silk, leather and other decorative throw pillows. Read below the different elements that will help you on how to buy decorative pillows for living room.
Consider the Fabric
If I am right then you wont like silk decorative pillow on your cotton
bed spread
. So for this vary reason fabric consideration is must. You can get velvet,
silk
, cotton, velour, chenille,
damask
and decorative pillows even from sheepskin. Sheepskin decorative pillows are bit expensive than the other fabric. You can also buy the animal print decorative pillow. So the fabric you pick will definitely let your personality come out.
Silk Decorative Pillows
Silk decorative pillows are all time favorite of all and can go with any kind of room decoration. Silk has the natural luster and durability that is not there in any other fabric. Although maintaining silk decorative pillows is bit hard yet they last longer than any fabric. Cotton home decor pillow tend to loose their shape and freshness after few washings. The silk decorative pillows are further accessorized with embroidery, beads, motifs for more designer and trendy look.

Leather Decorative Pillows
Leather pillows are also used as modern decorative pillows mostly in your living room. Earlier it was hard to find color variety in leather pillows but now it can be customized. These come with fringes and buttons. You can buy this from LeatherPillowFactory.com
Color Selection for Your Decorative Pillow
Color is the main thing after
fabric
so must be picked wisely. The best color for decorative pillow in your room will be close to the color of your wall. If the wall has the wall decor contrasting to wall color then buy the home decor pillows in that matching to wall decor. If not this then make the different color combinations according to your furniture and furnishing. For this you can match it with area rug, sofa, bed, curtains. Online you can find many sites that can help you in making different color combinations. This will give you an idea how the different colors will work.
Tips to Select the Color
Match the color of decorative pillow with furniture, wall decor or wall color. For leather pillow go with the complementary colors.
You can also match the color of decorative pillow with area rug or wall painting that has a very bright or eye catching colors.
You will be surprised to know that you can also match the color of your home decor pillows with table lamp and lighting color of your room.
You can also buy different colors for decorative sofa pillows and even for the bedroom pillows. This looks very contemporary.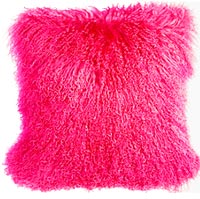 Mongolian Sheepskin
Decorative Pillow
Know Your Theme
What theme and style you should consider? For this you need to know what kind of look you want. Buying decorative pillows without theme means that you are collecting too many different things for your home decor. This will create a mess rather than beautifying your home. For this consider the color you want, print, the theme itself. Like it can be Asian, Africa, modern or contemporary, traditional, classic, French country or your own style. For Indian traditional theme you can pick the decorative pillows having embroidery and made from cotton fabric. For Japanese interior decoration theme buy bold colors like blue, red, green to match the traditional Japanese screen. If you are not fuzzy about theme then there is no need to run after a theme. You can buy the decorative pillow you like and develop a theme around them.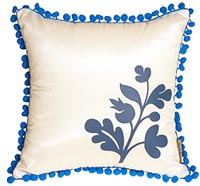 Square Bohemian
Blossom Throw Pillow
For ultra modern and chic style go with the combination of black and white. Western style large decorative pillow will work if you have a large furniture.
Also how you can use the present elements and furniture will help you in making the theme and buying correct decorative pillow.
Shape of the Decorative Pillow
Although there are variety of modern decorative pillow shapes yet the most common ones are square and cylindrical. You can also get it in rectangular, pyramids, cubes, round and boxing, bolsters and other shapes. Pick the size according to the space where you want to keep those. Either you can buy the single shape or mix and match the different shapes. You can mix the round shaped and square shaped modern decorative pillows.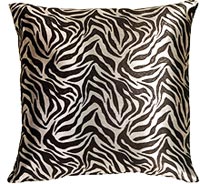 Metallic Zebra Silver &
Black Throw Pillow
Size of the Decorative Pillows
Size factor takes into account the place where you want to keep them. If you have a king size bed then small pillows will look odd and visa-versa. 16"x16" and 18"x18" are the most popular sizes. But you can also get the customized decorative pillows that are made as per the requirements of the customer.