Damask fabric, which originally belongs to China, is made from
cotton
, silk, linen or
wool
that has intricate patterns and designs on it and also known as damask jacquard fabric. The designs and patterns can be of same color or of different color and mostly you will find patterns of geometry or floral prints on the damask upholstery fabric. For bed linens and
tablecloth
, organic cotton damask fabric is used that is made from the organic cotton. The damask fabric earlier was considered for the garments that were wore on special occasions but now it has been extensively used in each type of textile industry. The damask upholstery fabric is chiefly used in making
curtains
, drapes, tablecloths etc.
History of Damask Fabric
It is believed that originally this fabric belonged to the city Damascus in Syria, got its name Damask and then traveled to Europe. Also Islamic weaving centers and Byzantine were having five weaving techniques and damask was one of these. In fourteenth century,
damask fabric
was extensively woven in Italy in the form of long looms. Till sixteenth century only single color was used to make the damask. After this period multi colored damask had also been made.
The damask patterns formed by weaving are woven into the
fabric
so the fabric looks as if embroidered with the same thread. The patterns have reversible images in positive and negative form with on side darker than the other.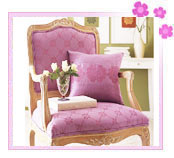 Types of Damask Fabric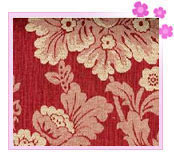 Type of damask depends upon the type of yarn used in weaving. So it can be
Velvet damask fabric
Organic cotton damask fabric
Silk damask fabric
Satin damask fabric
Damask Fabric Patterns
To make the damask fabric pattern different weaves are given in which warp yarn floats over weft yarn in a great number. The warp yarns are also lustrous and have natural sheen. It can be
silk
, satin,
polyester
, polished linen or fine cotton with radiance. The damask fabric also has much higher number of threads per inch (thread count) to make it more durable.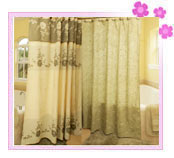 You can also get double and single damask fabric but the cost vary in each case and double is costlier but higher in quality. Now a days there are many stores that sell damask upholstery fabric having varied colors and patterns. But the silk damask fabric is costlier than any other type. The damask pattern revolves around geometrical and floral prints. The patterns are given different tones of the same color by different weaving patterns. So it is easy to see light and dark shades here. Also you will get patterns in different colors. These are considered as a modern damask patterns.