Curtains are the most appreciated and widely used means of window decorating, that complete the look with its matching and coordinating fabrics and designs. Plenty of styles and fabrics are available to bring color into a room, to block the light or to filter and soften the light and to achieve just the decorating objective that is in the mind of the buyer. Only the finest material and craftsmanship are brought together to produce the curtains, all coming with wonderful colors, styles and various sizes.
Curtains are exclusively designed and produced to provide premium comfort and marvelous quality. Curtains look stunning with its modern themes and colors, crafted in fabulous designs and quality fabrics. A huge range of contemporary & classical curtains provide sheer and light to the room and add a delicate, flowing touch to the windows.
Fabrics Used in Making Curtains
Some fibers hold up better in sun than others such as cotton, linen, and especially polyesters and microfibers are all pretty safe, and all are subject to fading. Silk or silk blends are avoided as the fibers will rot very quickly, as well as fade in direct sunlight. However for special occasions, silk or velvet curtains are highly demanded. They five a luxurious appearance. Most curtains last longer if they are also interlined with flannel, which protects from sun damage and adds insulation. A sheer or net curtain is also used in modern homes. Sheer curtains have the advantage of allowing a majority of light to be transmitted through the fabric.
Types of Curtains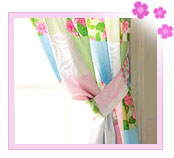 Curtains are used in doors and windows and according we have
door curtains
and
window curtains
. Curtains are also used as partitions in many homes. There are shower curtains as well used in bathrooms. Luxury
designer shower curtains
with delicate fabrics and elaborate designs have adorned the bathrooms of modern homes.
Sliding door curtains
are specially designed curtains so that the curtains can easily slide as and when the door is slided.
Curtains for Home Decor
The decor of a room is complete with curtains. Curtains create a very soft warm environment to the room. The right curtain creates a color, pattern and texture for window decoration treatments in your home. The market is flooded with a wide range of choices for curtains in terms of fabrics, styles and patterns. The added accessories in curtains like the curtain rods, the tassels, the panels and other draperies highlight the look of the room. With curtains and draperies, you enhance the room's look. The styles range from traditional style to modern contemporary style, to kids designs, you will find any design that can complement the look of your room. Custom made curtains are also available. Here you can make the curtain of your choice to go with contemporary, traditional, country, transitional, old world, and even a retro home.