Tassels are an exotic adornment for home decor and fashion, consisting of a bunch of cords fastened at one end. Tassels have been very popular as an accent to update home decor as these lavish tassels are a great accessory to spice up lamps, pillows, curtains and other home furnishings. They're useful for pulls on window shades, doors and ceiling fans and are taken strictly as a "decorator" item on doorknobs and draw-pulls. They are available in a variety of sizes, styles and colors. These can also bring flavor and elegance to a room's decor.
Using Tassels Since Centuries as Status Symbol
For centuries tassels have been used to indicate status and wealth in the furnishings or great houses and castles. These flowing embellishments were attached to clothing or uniforms of military officials and religious sects, depicting rank and status. Even today we see the use of tassels for status. For example, the graduation tassel attached to a mortar board. Besides this, tassels are used as decorative artworks. They have now a myriad of applications and styles.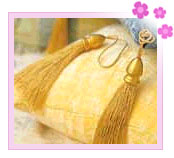 Parts of a Tassel
A tassel consists of three main parts - the cord, the top and the skirt. The cord is used to suspend the tassel. It is pulled up through the center of the skirt and top and hold the tassel together. The top is usually a wooden shape, often called a finial, with a hole in the center. It is covered with yarn, painted, faux finished or decoupaged and slides down over the top of the skirt. The skirt is the fringe that hangs down from the top. The beauty of the tassel lies on the fringe.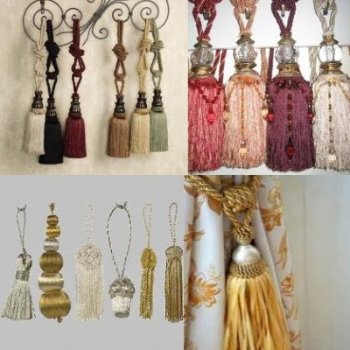 Send ONLINE ENQUIRY for wholesale purchase of tassels, curtain tassels, cushion tassels, key tassels, tassels of varied styles etc.
Styles and Designs of Tassels
Tassels can be thick or thin, short or long. They are available in a variety of textures and styles, from rayon, polyester, cotton to silk, with accents of pearl, beads to metals. Crystal or wooden beads may be added to the fringe of the tassels for added texture and glamor. They are the best jewelry for interiors with their styles ranging from simple, fun to chic and elaborate. With lots of colors and materials options, the tassels are one of the most versatile decorative accents. There are different designs of tassels depending on where they are used. Their style is principally displayed in the skirt or the fringes, the dangling part of a tassel. Some of the most popular designs of tassels are:
Beaded Tassels
Beaded tassels have beads hanging instead of the fine threads. In other words, the fringes are made of beads. These beads can be wood, glass, metal and they give a very sparkling appearance when added to to curtains, cushions, pelmets, throws, blinds, table runners and accessories. Beaded trimmings or beaded tassels are handcrafted giving each fringe a uniqueness and individual charm.
Bobble Fringe Tassels
Here the fringes are in the form of decorative pom poms which can be used on bed throws, curtains and blinds.
Cut Tassels
These style of tassels have each thread in the skirt cut for a loose, flowing effect.
Bullion Tassels
The fringes have looped or twisted ends and threads are not cut.
Combination Tassels
Here the style includes bullion cores with cut edges, giving a volume, and reducing tangling more effectively.
Molded Tassels
The wrapped head of a tassel is the mold, which is covered using the same threads or materials that form the skirt, while others may have a head of wood or porcelain that secures the skirt.
Applications of Tassels
Using tassels can create many decorative moods for different projects:
Curtain Tassle Tiebacks: Tassels or tie backs are an important enhancement for door or window curtains. They are single or double tassels attached to a looped cord to dress and hold back curtains from the window or door. Tiebacks add style, color, individuality to a wide variety of curtains and home furnishings, in a wide range of designs from simple braids to intricate fringes, from plain tassels to ornate tie backs.
Key Tassels: These are small tassels attached to a thin looped cord and attached to door knobs and handles, adding a touch of elegance to cabinet furniture.
They can be used as pulls for ceiling fans, bags, or purses.
Tassels, both single tassels and full fringes are also used as accents on door knobs and lamps.
Can also be used to decorate formal invitations, gift wrappers, jewelery boxes.
They can act as decorative accents for clothing like scarves, skirts, or bridal veils.
Tassels are used as edging for fabrics used in making curtains, cushions, tablecloths, table runners, or pillows.
Tassels can also be used for brightening fabric or fabric-related items like curtain rods, pillows, or drapery ties.