Door curtains add a touch of warmth to the room with its exotic fabrics and fabulous designs. Door curtains are simply one of the important components of interior decoration for office, restaurants as well as home. These allow to ventilate the house and at the same time, prevent insects from penetrating inside. Door-curtains can be fixed on any kind of door including the entrance door, balcony door, kitchen door, caravan door etc.
Curtains for sliding doors
have become popular in modern homes.
Inside the house, door curtains allow a perfect separation of rooms by replacing doors and are also very impressive to decorate a wall. The exotic touch of door curtains come from an active partnership with high skilled craftsmen working with beautiful fabrics such as heavy cotton textile, embroidered with colorful mixed silk thread.
Fabrics
These can be made from wide variety of fabrics including silk, cotton, jute, rayon, wool, nylon, polyester and satin. These can be beautified with the help of embroidery, patchwork and applique work.
Buying Tips
Size and Shape
: The first thing to consider while choosing door curtains is the shape and size. You need to make the choice on the basis of you size and style of the window frame or door frame. Door curtains of varied sizes depending on the rooms on which they are used like
shower curtains
, kitchen curtains, etc. Buy curtains that can be easily maintained and cleaned.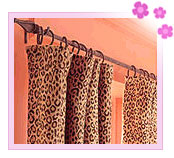 Design and Colour
: There are plenty of styles to choose from like French pleat, cartridge pleat, pencil pleat, slot pleat, puff ball heading, etc. Colour is also one of the important factors to consider. It should match with the color of the room and room furnishings. Floral and paisley imprints, bright colors for a dark room or a dark color for otherwide a dull room are the most preferred choices when it comes to curtain colors and styles. As a rule, you should buy those curtains whose colour does not get affected by artificial and natural light.
Texture
: Another important factor is the texture of the curtain's fabrics. Linen or cotton fabrics give a crisp look to the room and also make the room cool. Chiffon, silk and velvet curtains can give your room an elegant touch. They are usually used in special occasions. Make sure that the quality of the fabric is good and does not shrink on washing.
Purpose of using curtains
: This is one question which needs to be asked while selecting curtains. Do you want curtains for regular usage? In this case you should opt for durable but slighly cheaper, informal curtains. For festivals, special occasions, opt for formal looking ones made of silk, satin etc.
Decor of the room
: The curtains that you buy should go with the decor of the room. In other words, the colour, design, style of the curtains should gel well with the colour, style and design of the walls and furniture.
All these factors will help you to make the right choice. However, it also depends upon your instincts as how you want to decorate your home through curtains. If you are not very sure, you can consult an interior designer.
RELATED ARTICLE
Lovely Interior Decor with Bedroom Curtains
Trendy Home Decor with Curtains, Throws, Cushion Covers & Table Cloths