Table mats add to the beauty, convenience and effectiveness, wherever they are placed and is definitely one of the most important piece of table accessories in any home. There are lots of distinct designs and styles in which table mats are fabricated and the buyers can choose the right kind that would suit the purpose. Table mats are designed to stand normal wear and tear of use for many years.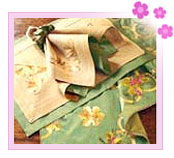 Right from chic styles to traditionally designed patterns, the impressive collection of table mats are made durable and long lasting, adding a special ambiance to the decor. They are available in different shapes and sizes, they may have a host of interesting patterns that include paisleys, florals, geometric and various abstract prints.
Attractive table mats set impart color and style that provide just the right elegance to the table setting. These can be used for both formal as well as for a slightly casual ambiance to place the serving dishes. Ideal for use in homes, offices and restaurants and cafeterias. Table mats can be created out of wide range of fabrics, ranging from cotton to eco-friendly materials like jute and also synthetic fibers.