Table skirting refers to the cloth that forms the border or runs along the edge of the table. Table skirting or table pleating sets the tone for any function you organise in your home or any public gatherings. Table skirts make a great difference in the presentation for the banquet, buffet, brunch or business meeting. This is a very popular method of disguising or decorating the table legs by covering the table with a decorative
tablecloth
in various designs or pleats. Various techniques are used to embellish the fabric such as embroidery, applique work, printing and hand-painting. These have numerous patterns to offer unique grace and include paisleys, florals, animals, geometrics and abstract prints.
Table Skirting Fabrics
100% polyester is a versatile choice for many manufacturers for fabricating skirting for tables, counters, stages and any other custom application. Polyester knit is a rich looking fabric that has the appeal of satin, without all the care and maintenance headaches. Poly-satin has been developed as a low-cost alternative to the traditional rayon taffeta decorating fabric. Linen fabric is typically used in more formal areas such as banquets, meeting rooms, and offices. All skirting fabrics are machine washable and dryable.
Table Skirt Designs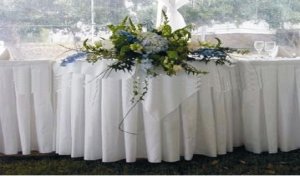 Table Skirting
There are various table skirt designs available which we are discussing below:
Round Table Skirts
This design is a simple circular fabric which is used on the round table and the fabric exten from extend from the edge of the table to the floor.
Gathered or Shirred Table Skirts
In this design, a fabric drape is drawn together using threads along the top hem. This offers an extra body to the skirt. With a tighter gather, a full, ruffled appearance is seen on the table skirt.
Knife Pleat Table Skirt Design
Another popular design is the knife pleat design, where a number of narrow, sharp creases of the fabric are folded in the same direction. They create smooth, precise lines down the length of the table skirt. This is considered to be the least expensive of the table skirt design.
Kidney Table Skirt Design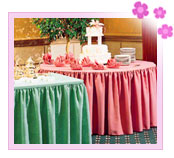 This table skirt is used in the kidney table, the table whose shape is often similar with an arc shape like that of a human kidney. Kidney table skirts are designed to fit into these type of tables and the pleats are tapered to follow the design of the table.
Box Pleat Table Skirt Design
This design is made from a series of back-to-back knife pleats. The box pleats give the table a neat, tailored appearance. These pleats have a more pronounced look than a simple knife pleat. The pleats add more dimension and interest to the look of the tables. These table skirts have accordion folds in the drapery. They provide a very formal look and look great on banquet and trade show tables.
French Box Pleat
French box pleat table skirt add more volume than standard box pleats. They are narrower than regular box pleats, giving the table's bottom a fuller appearance. They look good in both casual or elegant settings.
Fringe Table Skirting
They give a very attractive appearance of the party table. Use fringes of different colors and materials like as metallic, tissue and raffia fringes. Cover the table with a fabric from top to bottom and then place these fringes over the length of the entire table. Shimmering metallic fringe table skirts are a fantastic way to dress your table for any type of celebration.
Swag Table Skirt
Detachable swags can also be used to beautify banquet, business or party tables. These swags can be placed over any kind of table skirting. They are usually attached with overlap clips. Swags are considered an easy way to dress up an otherwise plain table skirt.
Check out all these designs in our photo galley on
Table Skirting Designs