A Tea Cozy is designed to snuggle around the teapot while the tea is steeping. This keeps the tea piping hot and allows the tea to attain its best flavor. After the tea is done steeping and decanted into a warmed pot the tea cozy keep the tea hot and allow to enjoy the well made brew in a leisurely fashion. Tea cozy is personally handcrafted out of specially selected prints and fabrics.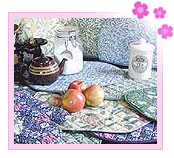 Tea cozy is made to fit a standard-size teapot and can further be customized as per the specific demands of the buyer. Tea cozy- a bulky, stuffed cloth teapot cover is made of several layers to ensure proper insulation. A tea cozy makes a wonderful gift, especially when it's personalized with a monogram. Unless otherwise noted the tea cozy is made out of cotton or cotton blend fabrics.
Different lines and themes are created according to varying inspiration and the wide range of new fabrics. Tea cozy vary from those created for everyday use to some of the elegant designs used for special occasions. It is appliqued and embroidered with designs and other logos & initials. For the perfect cup of tea, teapot is crowned with tea cozy that can be trimmed with intricate woven lace work, beads and tassels.