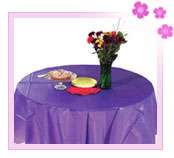 Enfolding in style, table cover is a cloth used for covering a table, especially one that is used to keep the dishes and act as a set on for meals. Table covers are an economical and efficient way to cover tables and protect it from staining and wear & tear. They also make an excellent base for any display, whether used alone or to compliment a table top display item.
Apart from day to day usage, colorful table covers add to the festive atmosphere of any special occasion. These are offered in a great selection of coordinating patterns and colors. Table covers can further be embellished with an embroidered border, can be printed with romantic floral theme, or with applique work. These are also custom made to the sizes and specifications of the buyers, so as to fit their needs.
Fabrics
Table covers are crafted out of varied pieces of fabric and elegant trims. The fabrics used to make beautiful table covers include silk, cotton, jute, rayon, wool, nylon, polyester, plastic, leather, satin, organza and organdy.