Table Skirts or Table Skirtings are a beautiful way to decorate a table, whether for a formal party of for an informal occasion. Free flowing satin pleats of a table skirting on your table not only make your table looks so elegant but also complete the whole decoration. Dandified wedding table skirting will then become the part of sweet memories. Whereas no conference or any other party can be seen without stylish and trendy table skirting. And if you are having an informal get together then also have remarkable table skirt to make the event more memorable. So you can use table skirting both for formal as well as informal setting. There are table skirts for Banquet or Informal Table
Table skirting normally does not cover the top of the table as on the top you can use
table cover
. You will thus use it on the perimeters of the table. Now if you are throwing formal theme based a party or giving an informal dinner then you must know all about
table skirts
, table skirting fabrics, various designs and styles of table skirting, foldings so that you can get the acclaims.
Table Skirting Styles
The style of any table skirt depends upon the type of pleats it is having. You can have the following table skirting styles
Box pleat
Shirred
Mini-accordian
Expo pleat
In box pleat, the individual box is 3" wide and runs down the skirt. In shirred style, pleats are gathered and used mostly in banquet table skirting. Whereas mini-accordian are regular pleats in which distance between each pleat is 1". This looks good for wedding table skirting.
Table Skirting Color
Picking the color of the
fabric
entirely depends upon the color scheme of your whole decoration. Like if you are choosing curtains, table cloth,
chair covers
& bows in pink color then your
table skirting
color must complement this. Otherwise your whole efforts will go waste.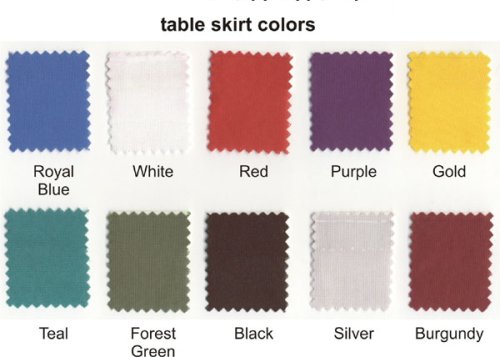 Table Skirting Fabric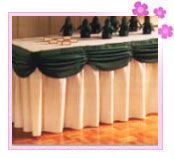 This is one of the very important factors as table skirting fabric must not be stiff and hard. It should have a proper flow to solve the decorative purpose. The cloth must be completely opaque to have more royal impact. The first choice of many consumers and manufacturers is the polyester fabric as it has that flow with great appeal and needs less care. For affluent look of the table, linen skirts & silk table skirting is also done. But if you are looking for something less expensive then go for satin or poly-satin. These are the best alternatives to the traditional rayon. In some of the weddings cotton table skirting is also used but these have less impact than the cloth that has shine in it.
The fabrics that can be picked to make table skirts are
Linen
Satin
Matte Satin
Poly Check

Polyester poplin
Poly silk
Poly linen
Glossy Organza
Twill
In addition to this you will also find plastic table skirting. Plastic table skirting is easy to maintain but has life less than cloth table skirting. Moreover plastic table skirting does not look as good as cloth table skirting.
Table Skirting Accessories
Along with table skirting you need table skirting accessories to hold your table skirt so that it remains in place. For this you can go for table skirting clips, hooks, hangers and loops. The skirting clips comes in two forms i.e.
Velcro skirting clips are provided with Velcro tape that can be easily used but cloth clips does not have the Velcro. These table skirting clips have more grip to keep the table skirt intact. You can also go for table hooks & loops to fix the table skirt. Once the party is over you need to care for your table skirting and for this you can buy table skit hangers. Table skirt sign hangers are very popular. Very easily you can hang your beautiful table skirting to reuse it for your next party.