Buying the extra thick mattress but worried about the sheets and those corners of your sheets that you cannot tuck under your mattress. But do not worry further as this problem has the solution in the form of deep pocket sheets. These sheets have extra pocket at each corner for a perfect fit and tucking of it beneath the mattress. Thus the deep pocket sheets for your bedding are the fitted sheets that will perfectly fit on your mattress. These have the elastic at the end to make it more stretchable.
We need deep pocket sheets as some of the mattresses because of inclusion, padding, foam toppers, feather beds or pillowtop tend to have more size than the normal ones. So for this you cannot have a normal
bed sheet
and here you require the extra deep pocket sheets. Therefore it is the extra deep pocket sheets that can accommodate any thickness of the mattress.
Also do not worry about the color, design, pattern and fabric as you will get numerous choice in this as well. You can find range of colors in the category of fitted deep pocket sheets to match your bedroom and bedding decor. But just like
fabric
, buy the color based on the season and weather. Deep colors are generally for winters and the light ones are for summers.
Deep Pocket Sheet Fabric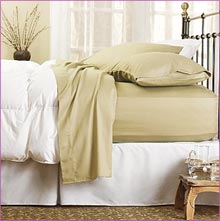 Fitted Deep Pocket Sheet
Cotton Deep Pocket Sheets
Flannel Deep Pocket Sheets
Bamboo Deep Pocket Sheets
These are the most common types of extra and fitted deep pocket sheets. Flannel deep pocket sheets are mostly used in winters and for
kids bedding
as these are soft and warm. You can go with cotton deep pocket sheets for daily use as there is no extra effort in cleaning them. Also it is better and safer to buy 100% organic cotton deep pocket sheets than the normal
cotton
. These are made up of cotton that has grown without fertilizers and chemicals. So these sheets are hypoallergenic and safe if you or anyone in your family is allergic to dust, mites, mildews or molds. Also these days there is a demand for bamboo deep pocket sheets because of its natural ability to resist microbes and other allergens.
Apart from this you can get these in Egyptian cotton, sateen, sateen cotton and hemp fabric for these sheets.
Deep Pocket Sheet Size
For buying the perfect size of deep pocket sheets measure the thickness of your mattress. Although these fitted deep pocket sheets are available for all kinds of bedding yet also measure the size of your bed. Extra deep pocket sheets are so designed that they can fit mattress having 22 inch thickness. The most commonly available depth of the deep pocket sheet range from 15-22 inches. Some of the commonly available sizes are
Deep Pocket Queen Sheets
King Deep Pocket Sheets
Full Deep Pocket Sheets
California King Deep Pocket Sheets
Twin Deep Pocket Sheets
Thread Count
If you are looking for luxury, softness and comfort then do not compromise on thread count as it is the measurement of softness. Linen Bargain has the deep pocket sheet sets that are made up of Supima cotton in 1000 thread count. It is so soft and lustrous to touch. Also you will get this in lesser or more thread counts. But 300-600 is the perfect range for a normal usage. Something extra will definitely enhance the softness and lesser than this will cause the roughness in deep pocket sheets.
Measuring Mattress to
Buy Deep Pocket Sheet
Online Stores To Buy Deep Pocket Sheets
Walmart
JC Penny
Nextag
Target
Overstock
Linen Bargains
How to Measure the Mattress and Bed to Buy Fitted Deep Pocket Sheets?
Perfect measurement is required for a perfect fit. To measure the thickness of mattress for the dept of pocket do not measure it from cord-to-cord of the mattress. Instead of this start measuring from the top of the box spring and for the top measuring place your hand above the mattress and measure till there. This will define the size of the pocket depth. Now for the length and breadth of the deep pocket sheet measure the length and breadth of your mattress and bed.