A well decorated linen tablecloths are the item of luxury that grab the attention of everybody. So if you are looking for the perfect linen tablecloth for your party then check here the details on every aspect of it like what is linen, how to choose linen tablecloths, brands, types and care for & cleaning of linen tablecloths.
What is Linen?
It is one of the most popular and oldest fabrics made from the fibers of flax plant. The quality of the plant decides the quality of the fabric. Handpicking of stalk from which fibers are made, long tedious process of separating the fibers make it expensive. So line tablecloth are bit expensive than cotton or other type of fabric. Europe is famous for quality linen and linen products. Fine look and sheen makes it popular & it is not difficult to find luxury linen tablecloths now a days.
How to Choose Linen Tablecloths
First and the foremost consideration is the shape and size of your table, which can be round, square, oval or rectangular. So the linen tablecloth like any other tablecloth comes in four shapes. Based on these types of
tablecloth
are:
Round linen tablecloths
Square linen tablecloths
After this find out your table size to buy the perfect size of tablecloth. Like the square table (4 seater) having the size 25"x28" to 40"x40" must have a table cloth measuring 52"x52". You can check the rest of measurement here:
Shape
Size
Table Size
Seating
Oblong table
52"x70"
60"x84"
28"x46" to 40"x54"
36"x80" to 48"x72"
4-6
6-8
Oval
60"x102"
60"x20"
60"x144""
36"x74" to 48"x90"
36"x94" to 48"x104"
36"x118" to 48" x130"
8-10
10-12
12-14
Round
70"
90"
44" to 60" diameter
60""to 78" diameter
4-6
6-8
If you do not have a standard table size then it is good to measure it and buy the linen table cloth that have 12 to 20 inch more length & breath than your table. This extra part is for the drop and generally it is good to have 6-10" drop.
Different Types of Linen Tablecloths
Disposable linen tablecloth
Paper linen tablecloths
Irish linen tablecloths

Cotton linen tablecloths
Embroidered linen tablecloths

Crocheted linen tablecloths
Damask linen tablecloths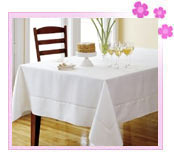 If you wanna use the table cloth for not more than one time then go for the disposable linen table cloth. Just enjoy the party and free yourself from the worries of washing it and caring it. These are also called paper linen tablecloths. Although these look like linen but made up from a dense paper material that looks similar to linen. Along with this Irish linen table cloth from Ireland are also very popular. On every kind of linen table cloth you can have different patterns of embroidery and crochet styles. These further enhance the table cloth. Along with this the Damask linen tablecloth will have rich pattern on the fabric itself and looks very dandified. Wavy and twilled patterns are given to mystify the whole look.
Linen table cloth no doubt beautify your table and marks the setting but needs additional things to further enhance the appeal. This includes
napkins
, runners, table pads,
place mats
. So by combining all these you can really have a nice party on your line tablecloth.
How to Iron & Clean Linen Tablecloth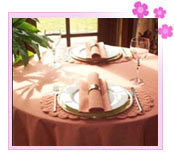 Now that you have bought it so you must be familiar with the ironing, cleaning and how to wash linen tablecloth. Linen is a wrinkle-prone fabric and needs ironing after every wash. To iron it properly, you need to use steam press or dam the linen tablecloth and then smoothen it with hot iron. You can also spritz the fabric in water to iron it.
Now if you are enjoying food on linen tablecloth then don't be overwhelmed by the idea of cleaning it or getting stains as it is not that difficult to clean the dirty linen tablecloth as it seems. Follow the step by step procedure and get rid of the stains
Linen needs no chlorine bleach. If you do so your linen will become yellow.
Treat the stains immediately
You can use detergents like Era & Biz and pretreatment laundry products such as Shout, Zout to lessen the stains.
If the cloth has spill stains then the best way to deal with is, put small towel under the stained area. Then swab the stained area with cold water and put wet cloth over it. Now sprinkle some salt and rub it with finger. Cover it with napkin. This is an immediate remedy.
Use solvent based spot removers like Goof Off to remove the tough stains.
To remove stains of chocolate, fruits and red wine treat the stained are with detergent. Keep it as it is for few hours and then wash it. If you still see the stain on the linen tablecloth then repeat the whole process.
Do not use wax candles on the linen tablecloth but if you are using them and got the stain of wax then first of all remove the excess wax with knife. Cover the both side of the tablecloth with absorbent paper and iron the waxed part. After this treat it with solvent stain remover like Goof Off or Carbona.
Top Brands
Bardwill
Lenox
Liorra Manne