Festival season is about to come and you will be hosting so many parties that your
tablecloths
are bound to get some or other type of oil stain. This can really pissed you off. But don't worry about these stains as you can very easily remove these stains from the tablecloth to reuse them for the next party. You may find many commercial oil stain removing products but the results are not that satisfactory. So here are the few very handy tips on how to remove oil stains from tablecloth
se talcum powder or corn starch on the place of stain and keep it overnight. Next day wash the tablecloth with detergent. You will find your table cloth free from stain.
If your tablecloth is stained with vegetable oil then first of all remove the stain with a blunt knife then soak the cloth in detergent and lukewarm water. Again keep it overnight and wash it in the water.
Put some salt on the stain and leave the table cloth as it is for sometime. Remove the salt and put detergent there. Gently scrub the stained portion and then wash it.
Coca cola is a good stain remover so put it in the washing machine and then put all your stained tablecloths. Wash it and find stain free tablecloth after a single wash.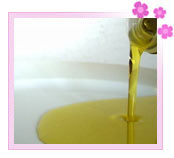 These methods of removing oil stains can be used on any other
fabric
. But the temperature of water for rinsing and washing will vary. Like for
cotton
 it can be lukewarm but for polyester and wool hot water is not used. So for this also read the laundry instruction.
Now the oil stain has been removed but you still can smell the oil or grease. To get rid of the smell of oil, use vinegar cleaner. Soak the tablecloths in vinegar cleaner for about 45 mins and then dry these. This will remove any smell of oil or grease.
So now you can enjoy every party of yours without taking any tension of these oily stains.