Are you afraid of slippery bathroom? Does water every where in the bathroom once you stepped out of bathtub make you uncomfortable? If so, you need a bath mat as placing right bath mat in front of bath tub, sink and door prevent any danger of slipping. At the same time it will add comfort and elegance and also metamorphose your dull looking bathroom to the voguish one.
Get The Measurements
To shop for bath mats first of all you need to have the perfect measurement of the area where you want to place them in your bathroom. The dimensions will help you to know what exactly will fit there. With this you can select the right size of bath mats.
Have A Look and Work On Theme
This is another very important aspect of selecting the bath mats. To find this out, have a look at your present bathroom and check what sort of changes are required. Consider the color and pattern theme of other
bathroom furnishings
that will include
shower curtains
,
bath robes
,
bath towels
,
bath rugs
,
face towels
and
hand towels
.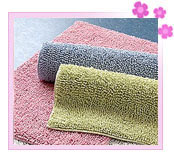 Now you can either do the experiment by giving your bathroom a contrasting look or you can go with the color theme of your home. Besides color, you will have to check the right pattern of these bathroom mats. In this you will also find the embroidered bath mats, printed mats and plain mats to add elegance. These beautiful fabric can enhance the look and elegance. Moreover if your bathroom is small then choose the light color otherwise your are open to do color experiment. Apart from this if you need mats at more than one place then better to buy bath mat sets
Finding The Perfect Material
Although you will find huge variety in this but it is the best to choose cotton and jute based bath mats. Cotton has the super absorbent quality and at the same time looks good. Wherein jute mats are anti slippery. In both varieties you will find hand-made bath mats in the market. This gives luxury and elegant look to your bathroom. Now if you are shopping for the kids bathroom then light colored bath mats wont work.
Other Important Bath Mat Features
Under this comes durability, washability and anti-slip quality. Check for durability and washable feature of bath mat. Some bath mats fall apart or the fibers break off just after one wash. So check these features while buying the bath mats. Along with this also check for the anti-slip feature of bath mat, which is the most important factor among others while selecting the bathroom mats. Bamboo bath mats and the mats that have rubber at their base are the perfect examples of anti slip bath mats.