In this world where everyone wants the perfect home, interior home decor fabrics have a defined role to play that change the entire look and feel of the home. The color selection, fabric choice, style and pattern on the
fabric
play pivotal role in metamorphosing the entire ambiance. Say if you are using yellow or orange color fabric for your curtains then the entire feel will be bright and on the other hand pink and white gives very subtle and feeling of tenderness. Same like this, home decor fabric type can also change the entire look. More opulent look can be given by using
organza
or chenille, velvet silk fabrics. So you will have to be very cautious while selecting the home decor fabrics for your interior decorations.
Dotted home furnishings fabrics is hot these days in all sorts of contemporary colors and motifs. Whereas some people prefer floral prints and even the stripes on cotton fabric. Kid's room have their own specific color and prints that can be chosen. So whatsoever you want to do with fabric, purchase the home furnishings fabric according to the theme of your entire interior decoration and then take the step of selecting and buying the fabric. Like if you have Victorian theme then you can pick velvet, brocade or any other opulent fabric as this style symbolizes feminine and ornate form.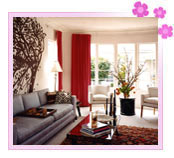 On the other hand if you are a person who admires to do experiment with colors and prints then hot and bold colors like red, bright green fabric with floral prints will be your choice.
Another thing that must be considered while buying the home decor fabric is the personal instinct and the sort of ambiance you want to create. In this also consider the cleaning of fabric. You can go for the home decorating fabric that is pleasing in color having patterns and texture of your personal choice. If you like light weight fabric then you can go for the organza or silk whereas velvet and denim are heavy fabrics for home decor.
Home Decor Fabric by Color
The color of the home decorating fabrics play crucial role in generating the appeal of the room. Color selection though is a personal choice but it also depends upon the theme that you are selecting. Home decoration theme can be traditional, modern/contemporary, Tuscan, French, Tropical, Cottage, and Country Home Decoration style. But if you are not working on any theme then for the color, consider the color of the wall, furniture and flooring of the room. Buy the home decor fabric that matches all these elements to give the perfect look. You can buy small swatches and match these with walls to buy the best home decorating fabric.
Which Fiber to Choose?
You can wither go for the natural or synthetic fiber for the home decor fabric. Cotton, linen, hemp, wool, silk, hemp are the natural fabrics where as all other line polyester, rayon are the man made fabrics. Generally people who have one or other sort of allergy or have the problem of asthma should buy the natural home furnishings fabrics.
Cotton is one of the most widely used natural fabric that is very durable and strong. Cotton is thus extensively used as home decor fabrics. Usually bed sheets, bed covers /bed-covers.html, quilt covers, kitchen furnishing and other such items are made from cotton fabric. Cotton also reflects heat more then wool and silk and thus can be used in every season. It can also be blended with any other kind of fabric to make blended fabric like polyester, rayon etc. It is the most durable home furnishings fabric and chiefly used in upholstery, draperies and slipcovers. Cotton is one of the best home decor fabrics.
Linen is a natural fabric and one of the oldest textiles used by man for home furnishings and other purposes. Linen fabric is a wrinkle prone fabric so mostly used in cottage or shabby chic interiors. Linen is used for table linens, upholstery and to make covers.
Wool is used in chilly weather and very warm home decor fabric. It can retain color for a very long time and very soft to touch.
Silk has natural shine and luster so the most desired home furnishings fabric. Moreover its natural strength and ability to hold color make it more demanding. Silk curtains are common to see and give very rich presence. So it is undeniably the most exquisite of all home decor fabrics.
Jute looks like linen from which bags, mattress, furniture, bags, blinds etc are made. Fine jute fabric these days is also used to make curtains, sofa covers, table runners and other textile home furnishing accessories.
Rayon is poor man's silk and blended with expensive fibers for durability. It is a soft to touch and this home decor fabric is used for slipcovers, draperies and upholstery.
Polyester is a strong fiber which can stand up under strong sunlight, is easy to clean and is durable. Voile "like" draperies are often made from polyester.
Designer home decor fabric
Range of designer home decor fabric is increasing and now there are numerous such stores from where the designer home decorating fabric can be bought online. Designer home decor fabric is mostly modern/contemporary having prints and bright color.
Calico Corners
Decorators Best
Waverly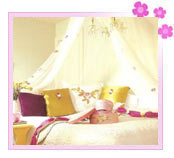 You can also shop for home decor fabric online in the virtual stores that display all sorts of fabrics their prints, colors. Even you can get the sample on some online stores that will give you the perfect feel of the entire slot. Home decor fabric wholesale online stores like Fabric.com, Fashion Fabric Club, Payless Fabric are some of the online stores that are selling home furnishings fabric. Even you can purchase these at wholesale rate and while festival season you will get good discount to do cheap home decor fabric online cheap shopping.
So buying the best home decor fabrics need your time and creativity that how you are going to use colors, themes and other styles related to home decoration.