Block printed bed sheets are manufactured with the technique of block printing in which wooden blocks are used to create the prints on fabric. This wooden block has the pattern that is repeated to make block printed bed sheets. Some of the craftsmen also use the metal blocks for this.
The wooden bocks are made from teak wood by craftsmen by carving and different blocks for different colors are made.
To make hand blocked print bed sheet of 90"x108" the artist has to stamp about 1400 times. To make organic bed sheets, eco friendly vegetable colors are used and prepared each day.
Screen printing is a substitute for block printing but one who knows the difference between the two will surely like the hand block printed bed sheet more than the screen printed one.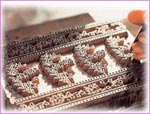 To make these bed sheets the
cotton
or
silk
bed sheet first undergoes bleaching then dying. Then block prints are made by using wooden or metallic blocks. First outline is made with the outline block and then the color is rilled with another color filling block. This will create the direct or hand block printed bed sheet. These can also be made through resist printing in which first the area that is to be protected from dye are done with clay and resin. Then the
fabric
is dyed followed by its washing. The dye seeps into the protected area through cracks giving rippled effect. This bed sheet is then completed with the block printing.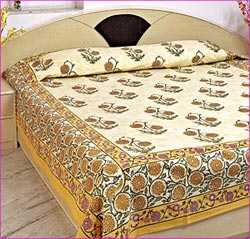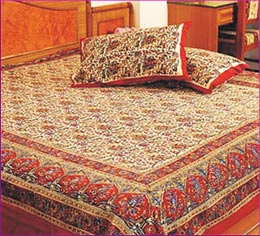 The Mughal print of Rajasthan. are very famous and easily seen on the block printed bed sheets. Also you will see many floral patterns. Almost all colors are used to make these bed sheets but brown and red are ispecially hot among buyers. Single as well as double block printed bed sheets are available. India has the huge market for these bed sheets along with other home furnishing products like
pillow covers
,
shower curtains
,
comforters
,
bed covers
,
cushion covers
etc.
Block printed bed sheets are mostly made from cotton and perfect for the summer and daily use. These are very easy to maintain and launder as not much care is required.