People who crave for home decoration cannot stop themselves from buying embroidered quilts that are so decorative and fantastic looking items in your bedroom. Feel the luxury of bed with embroidered quilt,
embroidered bed cover
, matching pillow cases,
bed sheets
and all. Faultless embroidered quilts are perfect to use daily as well as occasionally. The style and trend of the embroidered quilts are unmatchable and for sure add appeal to the bedroom decor.
Most of the embroidered quilts are made from cotton as this fabric is very easy to work upon. Also cotton fabric shrinks less so fit for embroidered quilts. Also you can get it in bamboo, hemp, silk and
jute
. So the choice is entirely yours. Also you can get in all colors like blue, gold, ivory, white, red, yellow and many more.
Embroidered quilts can be filled with down, feather, micro fiber or cotton. Also fabrics like polyester, Egyptian cotton, satin, silk, percale, chenille are used to make embroidered quilts in varied thread counts. The most common thread count range for embroidered quilt is 250 - 350.
The size of the embroidered quilt depends upon the size of your bed. So it can be kings embroidered quilt, queen, full, twin, single and California king embroidered quilt. It is important to buy as per the size requirements. You can also purchase the embroidered quilt covers in different blocks, square patterns and designs.
Embroidered Quilt Patterns
Floral Cross Stitch –
Embroidered Quilt Pattern
Chain Stitch Embroidered Quilt Pattern
Apart from simple patterns you can get the very complex and intricate embroidered quilt patterns. This include irregular and abstract shapes, figures with threads and other accessories. Ribbon embroidery on quilts is also becoming a rage. Cross stitch is the most common of all but you can get chain stitch, running stitch, satin stitch, buttonhole or blanket stitch. Embroidered baby quilts are also in today as these are the safest ways to decorate the nursery or baby bedding because the embroidery is done with threads. No beads or applique is done on the embroidered baby quilts for further protection. On the embroidered baby quilt you will find amazing range of patterns and designs to catch an eye of your kids. You kid will love the embroidered bedding.
Types of Embroidered Quilts
Types of embroidered quilts depend upon the technique with which the embroidery is done. It can be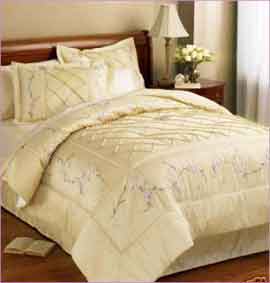 Embroidered Quilts
Machine embroidered quilts
Hand embroidered quilts
Quilts of same size and embroidery pattern done with hand are costlier than the machine embroidered quilts. These quilts are available from floral, animal to geometrical patterns. The threads used to make embroidered quilts can be of silk or cotton. So depending upon the thread fabric, quilt fabric, stuffing and pattern the cost varies.
Beautiful hand embroidered quilts are available in India as Indian embroidery is known across the world. Bright thread colors are used on printed as well as plain fabric. Also lace embroidery and ribbon embroidery are becoming one of the most selling products.
Embroidered Quilt Seller
Bed Bath Store
Overstock.com
US Mattress
Exclusively Home
Target
Amazon
Amish embroidered Quilts
Popular Embroidered Quilt Brands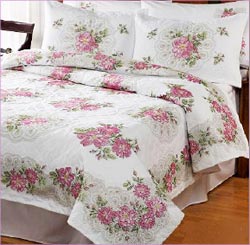 Embroidery Quilts
Garnet Hill
LL Bean
Kidsline
Notneutral
Artisan
DKNY
Freckles
Greenland Trading
Pem America
Horchow