Embroidered bed covers are the result of creativity of the artist who does the embroidery with bright and pastel shades of threads on different types of bed covers. Embroidery is one of the style done to ameliorate the bed covers and other textile furnishing products such as
table runner
,
table mats
,
duvet covers
,
place mats
,
sofa covers
etc. To do embroidery different types of threads are used. Artisans make all kinds of designs ranging from floral, geometric patterns, landscape, pictures of animals to patterns of fruits. Be it a cotton bed cover,
silk
,
wool
or polyester bed cover, marvelous and unique designs are made on embroidered bed cover, which are not difficult to find in the market.
Skilfully handcrafted in vibrant and deep colors, is the feature of embroidered bed covers. With embroidery different kinds of flat and raised look can be given to the bed covers. From simple, fancy to contemporary effect, all can be given with embroidery on embroidered bed covers that can further be enhanced by the beads, mirror or baubles. Generally floral motiffs on embroidered bed covers can be seen in the sumptuous range with other types of bed covers.
Kinds of Embroidery
There are many kinds of embroidery that can be done on bed cover. The most common ones are
Cross stitch
Ribbon embroidery
Chicken embroidery
Crewel embroidery
Blackwork embroidery

Hardanger embroidery
Counted-thread embroidery
Blackwork embroidery
Whitework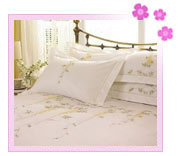 Cotton embroidered bed covers are normally dandified by the cross stitch, which is done with hands and to make this, very bright and colorful fabric is chosen. In this embroidery every stitch is in the form of cross. When the embroidery has a pointed hooks in its pattern then it nothing but the crewel embroidery that is done on the cashmere wool bed covers in range of colors. It generally has floral or creeper designs and done on the thick fabric. The whole embroidery is done by hand by taking single or double ply of thread.
Cotton
is the most preferred
fabric
to make embroidered bed covers. This can be used for normal routine. Embroidery on satin or silk bed covers make these look very elegant. Although these look very pleasant but cannot be used daily. Generally silk threads are used to make silk embroidered bed coves that have very fast colors. You can find full embroidered bed covers and bed covers having embroidery on the edges or just in the center.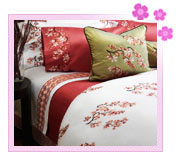 Hand embroidered bed covers are more expensive than the machine embroidered bed covers because in making these much time is consumed. To make fancy bed covers with embroidery, artisans use bright colors to give it a rick look and royal appeal. Embroidery can be done on the patchwork to further enhance it. Crochet and piping on the sides of the bed cover is also done that add to the style.
Embroidered Bed Cover Manufacturers & Suppliers
White Lotus Collection
Bhat Oriental Crafts
Yantai Dahong Trading Company Ltd

Saffar Industries
Sudesh Art & Crafts Pvt. Ltd.
Sukesh International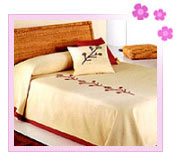 Embroidered bed cover manufactures and suppliers generally make these as per the requirements of the customer. So you can tell your specific requirements of size and design. But the wholesale suppliers and exporters make these in bulk with single design in various thread colors. Range of embroidered bed covers high of quality are made by the manufacturers that are also neatly stitched and have fast colors. Embroidered bed covers are apt for any type of interior design that are available from sober to very attractive colors.
Embroidered Bed Cover Manufacturers
Sudesh Art & Crafts Pvt. Ltd.
Himanshu Jute Fab 
Vaibhav International 

Sarveshwar Impex 
Global Creations 
Window Fashion India 
Embroidered Bed Cover Brands
| | |
| --- | --- |
| | Morgan and Finch Home Collection |
So bring the embroidered bed linen to your bedroom for royal and majestic look.