Patchwork bed covers are the ultimate furnishing product to create retro as well as contemporary look. This can be an amazing bedroom furnishing if used with patchwork
pillow covers
and
bed sheets
. So you can very well dress up your bedroom with the designer patchwork bed covers.
To make a patchwork bed cover different pieces of fabrics are sewn together not on a base as on applique bed cover but together to form a large piece of fabric. The design on patchwork bed covers are mostly straight or geometrical as pieces in these forms are sewn easily than floral or other patterns.
Depending upon how they have been made the patchwork bed covers are of two types i.e. machine made patchwork bedcovers and handmade. You can use light and dark patches of fabric, printed and plain, printed in two or three contrasting colors fabrics to make the patchwork bed covers. These fabrics pieces can either be placed in a specific pattern or in a random order.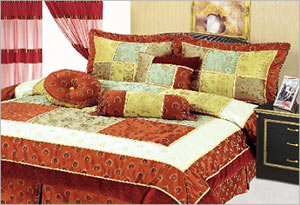 Saree patchwork bed covers from India are very popular across the world. These look so elegant when used over the bed. Along with this various designs and patterns are made by the patchwork bed cover manufacturers to satisfy the thirst of many buyers. Patchwork bed covers that are made from same fabric patches are easier to care for than the one that are made from different
fabrics
as these fabric patches have different elasticity and care instruction. So it is better to dry clean these patchwork bed covers. Also do not put these in hot water as it can lead to the color bleaching. Cotton patchwork bed covers are easiest to maintain.
From muted colors to bright and vibrants, all patchwork bed covers make the outstanding bedding for your bedroom. So go and shop for them.