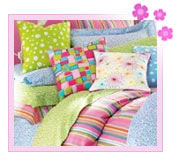 Cotton bed covers are made from the most widely used textile material that is
cotton
. If you go back about 7000 years in the history you will find the traces of cotton, which makes it one of the oldest fibers. Even today as well, cotton is the most extensively used fiber not only in
textile furnishings
but also for clothing & other fiber related industries across the world.
Now coming back to cotton bed covers, one can find huge variety in prints, color, pattern as it is very easy to dye and to work upon. Cotton bed covers are either made up of 100% cotton or mix with some other fabric such as polyester. Mixing with synthetic fiber provides more life, fineness and anti-bug property. Glaze cotton bed covers, polyester are the examples of this. All the cotton bed covers really adds touch of style to your bedding. The most popular among these are:
Bed Covers by Material
Fine cotton bed covers
Woven cotton bed covers
Block printed cotton bed covers
Embroidered cotton bed covers

Organic cotton bed covers
Dyed cotton bed covers
Cotton Satin/Glaze cotton bed covers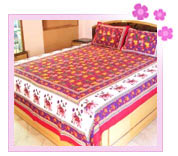 Fine cotton bed covers normally has more thread count. Thread count measures the softness & it is number of threads per square inch of the fabric. More the thread count more the softness and fineness. For normal usage bed cover having thread count between 250-300 is enough.
Variedness to cotton bed covers is given with block prints, hand embroidery and tie & dye. Block printed cotton bed covers are available in various color combinations and most of the wholesale manufacturers now a days use blended yarn technology to make these. Both standard as well as customized forms can be bought. Hand woven cotton bed covers are also in vogue but are very traditional in look.
Organic cotton bed covers because of the green and eco friendly concept are also getting hot as these are in sync with the environment and human health. Organic cotton is grown without fertilizers and free of pesticides and thus 100% safe to the environment. Many people are allergic to the synthetic material for them also organic cotton bed covers are appropriate to use. Coyuchi is one of the biggest brands and manufacturers of green cotton bed covers. Most of these furnishings are available in light color but new techniques have been developed to produce them in bright and dark colors. If you are purchasing green cotton bed set then along with cover pillow cases are also given.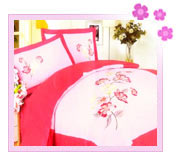 In India there are numerous local wholesale cotton bed covers manufacturers, suppliers who just manufacture these for local market. Panipat city in the state of Haryana is famous for different bed covers, bed sheets and other bedding furnishings. Many small scale bedding furnishings industries are there that are well known. Vishwakarma Impex is the manufacturer of cotton bed covers, dyed bed covers, handlooms,
bath mats
and other such accessories. They are also the exporter of floor coverings. To hold the widespread industry there are many councils and associations. The Cotton Textiles Export Promotion Council of India (texprocil) is the true representation of textile industry in India. Whole sale exporters, importers and other cotton textile industries are its member.
Along with Indian cotton industry, Egyptian cotton bed covers are also getting very popular. Wide range of color, simple pattern, single color and more thread count is their specialty.
The most popular Cotton Bed Cover Brands
Jersey
Pottery Barn
Bombay Dyeing