Applique bed covers are so made that bring in the traditional as well as modern touch in bedroom furnishings. To make applique bed covers the patches of other fabric are placed and stitched on the base fabric. These pieces of material on applique bed cover can be placed in number of patterns and designs. Often these applique bed cover designs are made by quilting.
Also with this technique you can make pot holders,
bed sheets
,
quilt covers
,
pillow covers
and other bedding furnishing. Applique bed cover manufacturers come with unique design ideas so that your bedroom can speak for your style and you can create an atmosphere what you require.
Tips to Make Applique Bed Cover at Home
If you are interested then you can also make applique bed covers at your home. You can either make it with hands or with sewing machine. All you need is the base fabric according to your bed size, foam sheet, background fabric and small pieces of fabric to make applique. Now place the background fabric first on the flat surface and then on this foam and then base fabric (with right side up). Sew these together. Now make the design with the pieces of fabric above the base fabric to get applique bed cover. You can also make the pillow covers in a same way.
Applique Bed Covers from India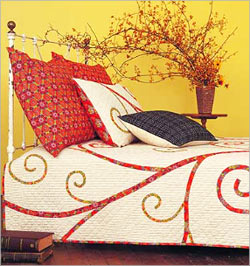 India is a home to all kinds of vibrant colors, colorful bedding style and stylish bedding. Applique embroidery is a common form of embroidery known to Indian weavers and artisans. So applique bed covers from India are mostly made in vibrant shades although it not hard to get the pastel and lighter colors. Even you can get handmade applique bed covers from India that are made by professional craftsman who has the family tradition of making these. The designer applique bed covers are a combination of hand embriodery and fine applique work done by using bright colours in fanrics like cotton and silk. Applique bed covers are available in different colours and combinations. Fantastic, radiant colours reflect the warmth and vibrancy of these applique bed covers.