Quilted bed covers are different from the normal
bed covers
& create an ambiance of serenity & style. Very attractive quilted daybed covers give timeless look to your bedroom and complete the
bed and bedding furnishings
. In these quilt bed covers, two sheets of fabric are there that contain the filling of
cotton
, polywool or other fiber. The outer sheet and the filling inside are then joined together by quilting. The quilting can be done by hand or by machine. So based on this you will find
Both these types of quilt covers have many patterns and designs on it. The patterns can range from floral, geometrical, stripes, rounds & circles. Generally the quilted bed covers manufactures use printed sheet of fabric on the top and plain at the bottom. But you will also find reversible quilt bed covers that have presentable fabric on both the sides so can be used on both ways. Nylon threads are mostly used to make the designs as it is strong and transparent.
Quilted bed covers are comes in all sizes like twin, full, queen, and king. You can purchase the one that fits on your bed. To buy the perfect size get the measurement of your bed and find the mattress thickness. Always go one size up than your bed.
| | |
| --- | --- |
| Machine quilted bed covers | |
Quilted daybed covers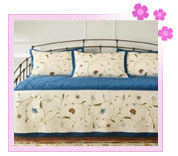 You can give your bed a distinguished look at day time by using quilted daybed covers. Mostly the bed that is converted into couch has the quilted daybed covers. This quilt bed cover will then be of floor length. You will find pipping & even split corners in these. To further add glamor you can use different pillows & foam bolsters on it. You will find it from normal, plain texture to all the floral printed and with embroidery.
Fabric Used to Make Quilted Bed Covers
Cotton is the most prominent fabric that is used to make quilted bed covers. Although you will find other fabrics like
silk
, polyester. Luxury quilt bed covers has silk, satin or polyester on the top to make it bright. You can also check the thread count that is mostly mentioned on the packing of the quilted bed covers. Thread count is defined as the number of threads per square inch of the fabric. More the thread count more will be the softness. Thread count more than 250 are preferable to buy.
Embroidered quilted bed covers
Patchwork quilted bed covers

Applique quilted bed covers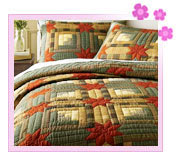 All these styles can be found on ant retail shop or mall. Online you can also shop for these quilted bed covers. Patchwork is most common to see on these elegant covers. On fancy quilt bed covers you will find ribbons & laces. Also embroidery is common to see on the fancy & designer quilted bed covers. Quilt bed cover manufacturers make use of all the available decorative material for this.
SR Linen Collection is the quilted bed cover manufacturer that has the designer range of all the bed linens. They have all types of elegant looking bedspreads, quilts,
drawing & dining room furnishings
products with other gifts & accessories. Other quilt cover manufacturers are Lyn Shailer Bed Linen, A J Homecrafts, Armoire Linen, Biju Linen and Bedding etc.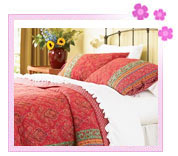 Manufacturers & quilted bed cover suppliers supply these to the sellers who further sell these to retailers or shoppers. So there is a complete network of manufacturer, suppliers, retailer and sellers that make these quilted bed covers to reach the consumer. Worldwide there are many such manufacturers, suppliers, exporters and importers for quilt bed covers. So you will find many quilted bed cover products in the market to buy.
Famous Brands For Quilted Bed Covers